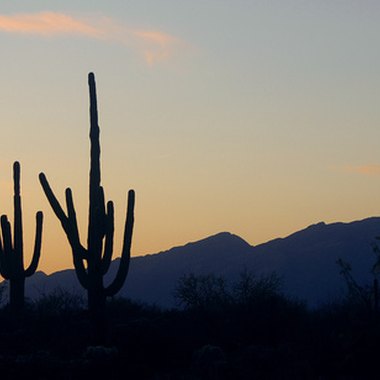 Many of Arizona's Native American tribes operate casinos in different parts of the state. Hotel accommodations are available at several of these casinos. Vacationers who would like to stay at a casino hotel will find resorts that fit the bill in Scottsdale, an eastern suburb of Phoenix, and in several other Arizona towns and cities, including Parker, Pinetop and Prescott.
Radisson Fort McDowell Resort & Casino
Operated by members of the Fort McDowell Yavapai Nation, this sprawling casino resort lies on the edge of the desert 29 miles east of downtown Phoenix, Arizona's largest city. According to Frommer's, the casino here is only one of the resort's many attractions, which include a water park for children, two 18-hole golf courses and spectacular views of the surrounding mountains and desert terrain. The casino, open around the clock, features nearly 800 slot machines plus a wide selection of table games. The on-site Ahnala Restaurant & Lounge serves breakfast and dinner daily. The resort, given a four-diamond rating by AAA, also offers a full-service spa and 24-hour fitness center.
BlueWater Resort & Casino
Overlooking the Colorado River near Parker, Arizona, this casino resort gets high marks from Frommer's, which calls it "western Arizona's most impressive hotel." Although the casino is a major draw, the hotel and the surrounding area offer a host of possibilities for vacationers who'd like to sample some indoor and outdoor recreational activities. These include a large indoor pool complex featuring a water slide, as well as a miniature golf course, marina and a mile of river frontage. The resort's outdoor amphitheater frequently hosts concerts by big-name entertainers, and the indoor Dig Lounge features entertainment by some of the Southwest's up-and-coming musical groups. You can play blackjack or poker in the casino or try your luck on one of its more than 450 slot machines. On-site dining options include BlueWater Grille & Buffet, River Willow and River's Edge Cantina.
Hon-Dah Resort Casino & Conference Center
Designed on a grand scale, this 128-unit resort hotel offers "the most luxurious lodging" in Arizona's rugged White Mountains, according to Frommer's. Stuffed animals, representing species native to the area, are mounted on a monumental, artificial rock wall that dominates the resort's lobby area. The casino features more than 800 slot machines, as well as blackjack and poker. Recreational facilities include an indoor swimming pool, hot tub and sauna. The on-site Indian Pine Restaurant serves breakfast, lunch and dinner daily; room service is also available.
Prescott Resort & Conference Center
Located only a short distance from downtown Prescott, this hilltop casino resort offers spectacular views of northern Arizona's mountains. For those who can tear themselves away from the casino's table games and one-armed bandits, the resort provides plenty of recreational facilities, including a fitness center and indoor swimming pool, and a full-service spa. Each of the hotel's 161 guest rooms and suites features a safe and wireless Internet access; microwave ovens and compact refrigerators are available upon request. Guests can find breakfast, lunch and dinner in the resort's Icha Maajoh dining room.
References
"Fodor's American Southwest"; Prescott Resort Conference Center & Casino; Fodor's; 2008