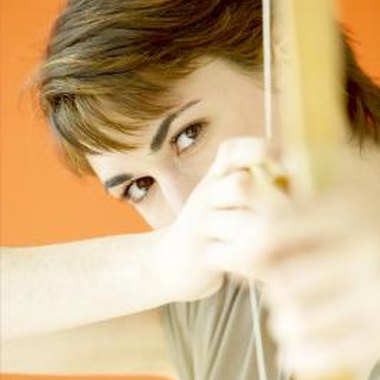 Washington, Pennsylvania, is only a 25 mile drive to Pittsburgh. The city is home to Washington and Jefferson College, historical sites and a variety of recreational activities. The southwestern Pennsylvania area is home to avid hunting, bow hunting and archery target enthusiasts. There are several stores within the Washington city limits that sell archery supplies and provide practice and testing ranges. However, there are no outdoor practice ranges in Washington. For outdoor practice range options, you'll have to travel just a short distance outside of Washington.
Chuck's Archery
Chuck's Archery is located on Jefferson Avenue in Washington and features an archery supply store and a small testing range. The company also holds the annual Strother Bow Demo Day, in which attendees can practice shooting brand new equipment such as the Valor, Infinity and Inspire bows. The demo day is typically held in the spring. The store is open Monday through Saturday and also offers archery shooting lessons.
Gander Mountain
Gander Mountain has more than 100 locations in the United States, including one in Washington, Pennsylvania. There you will find an indoor archery range (known as the "try-before-you-buy archery lane") to test out store equipment before purchasing. Customers can test out PSE, Quest and Wicked Ridge bows and crossbows. Archery enthusiasts can also practice on their own equipment on 10-, 20-, 30- and 40-yard lanes for $8 per hour or by purchasing a yearly membership.
Reeves Sport Shop
Reeves Sport Shop (no website; 1943 West Chestnut St., Washington, PA; 724-206-0462) offers a range of archery supplies, as well as a small upstairs testing range where users can shoot up to 20 yards on a variety of bows the store carries, such as Bowtech, Mathews, Hoyt , Darton and Athens. The range also sells guns and ammunition and is open seven days per week. Patrons can use the range for $5 per person for an unlimited amount of time during store hours.
Outdoor and Virtual Archery Ranges
Washington does not offer any outdoor practice archery ranges nor any virtual ranges. However, there are several outdoor and virtual ranges accessible to archery enthusiasts within a one-hour drive of Washington. Falcon Archers, the Archer's Edge, Crowfoot Sportsmen's Club and Pitcairn Monroeville Sportsmen's Club all offer outdoor ranges, virtual three-dimensional archery ranges or a combination of both. Many of these ranges also offer indoor archery experiences.
References
Chuck Schury; Chuck's Archery, owner; Washington, Pennsylvania
Fulton Greco; grandson of owner, Reeve's Sports Shop; Washington, Pennsylvania
Photo Credits
Photos.com/Photos.com/Getty Images