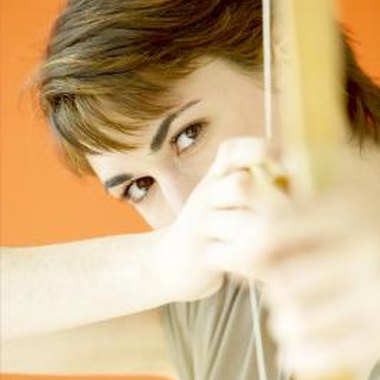 Initially developed for protection and defense hundreds of years ago, archery has evolved into a recreational sport and method of hunting that today is practiced across the globe. Even in large cities like New York, there are still plenty of options for archers looking to learn, practice and hunt using this ancient craft.
Instruction and Practice
Those that are new to archery or that want further instruction have at least two options in New York City. Queens Archery (archery-nyc.com) offers classes with professional coaches and equipment rentals for those that don't want to buy. For kids, Pro Line Archery Lanes (archeryny.com) is open seven days a week and has a youth archery development program for those aged 8 to 18. Both facilities also offer open practice ranges and host periodic competitions.
Clubs
There are also a few archery clubs in the city for those that want to socialize while practicing archery. Columbia University hosts the Columbia Archery Club (columbia.edu/cu/archery/club), which welcomes both undergraduates and non-students. The club practices three times a week on Columbia University's campus and it costs $30 to $40 to join. Another archery club based out of New York City is the New York City Archery Club (meetup.com/nycarcheryclub). This club welcomes any potential member that is 21 or older and sponsors group activities among members.
Hunting
Though there are no hunting opportunities within New York City's limits, those wishing to put archery skills to a practical test might be interested in hunting at one of the rural areas surrounding the city. Hunting is allowed in a number of counties outside the city, which includes a number of large-game archery hunting opportunities in Suffolk on Long Island. Bow hunters must adhere to New York State laws when hunting within New York City's surrounding areas, bow-hunting only within certain dates dependent on area in the state. Typically, Suffolk and Westchester counties have a bow-hunting season that opens in October and runs through December. All hunters must also be licensed in New York State.
Gear
There are also opportunities to purchase archery and bow-hunting gear in and around the city. For the sportsman, Pro Line Archery Lanes (archeryny.com) sells practice equipment, bows and arrows. For those that prefer the convenience of shopping online, The Bowhunters Advantage (thebowhuntersadvantage.com) is located in Pelham, New York, in Westchester County and sells everything from bows to shooting gloves to strings.
Photo Credits
Photos.com/Photos.com/Getty Images