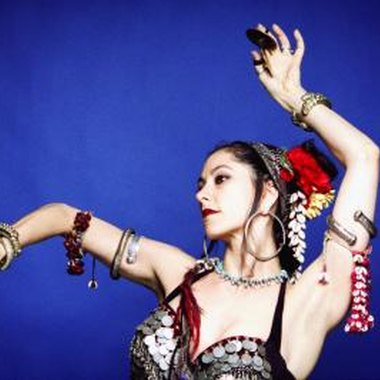 Rich, colorful fabrics, low tables and plenty of cushions can help set the stage for an Arabian Nights birthday party. Whether you choose to makeover your living room or set up a tent in the backyard, an Arabian setting is an ideal space for a birthday. Add Arabian music, a belly dancer and some authentic Middle Eastern food for a birthday not soon to be forgotten.
Decor
Decorate with Persian rugs, silk pillows and colored swathes of fabric. Hang sheets or curtains with colorful Middle Eastern prints from all four sides of an outdoor tent's walls. Pull the curtains back for the opening. Set a low table inside the tent. You can create a table with a plank of wood on cinder blocks. Cover it with a table cloth. Stack silk pillows in varying colors and sizes throughout the tent to create separate seating areas. Hang twinkling lights and patio lanterns throughout the tent. You can also use paper lanterns and hang them in the corners of the tent.
Music and Dancing
Create a music list with Middle Eastern music and music featuring tabla drums and sitars to further the theme. Browse music ads in your local newspaper and you might be able to find a tabla drummer for the night. Another idea is to hire a belly dancer for the evening. A belly dancer will either put on a performance or do a tutorial or class so guests can learn the basics of belly dancing. Rent a belly dancing video and have your guests dance along with it if a dancer is not in the budget.
Food
Serve couscous, stuffed grape leaves, shish-kabobs, hummus, pita and a variety of salads on a buffet table at one side of the tent. Decorate the table with a red table cloth and rose petals placed around the dishes of food. Serve mint tea and strong coffee. Serve baklava, a dessert made with phyllo pastry, honey and pistachios, for an authentic dessert. You could also make a cake and place a genie, a lamp or a belly dancer figurine on top.
Other Decorative Ideas
Place a genie's lamp outside the tent, which you can find at a secondhand store, a novelty shop or a flea market. Have each guest write a wish for the birthday honoree and place it in the genie's lamp. At the end of the night the birthday girl or boy can take them home or read them out loud. Ask guests to dress up for the party and give out prizes for the best costume. For a kid's party incorporate Disney characters from "Aladdin" and hand out treasure chests with chocolate gold coins, trinkets and jewelry.
Photo Credits
Brand X Pictures/Brand X Pictures/Getty Images