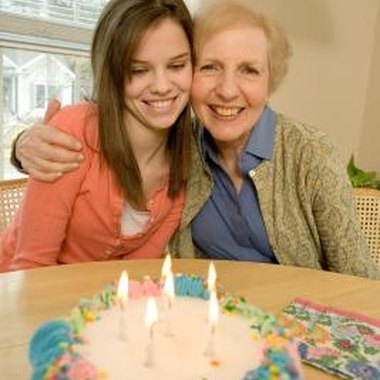 Whether your grandmother is celebrating a milestone birthday, or is just turning another year older, a birthday party is a great way to show your appreciation for her. When throwing a party for your grandmother, consider the fact that formal invitations may be the best way to invite her friends and relatives. While you may be used to texting, emailing or e-viting birthday party announcements to your own pals, it is good etiquette to maintain formality when it comes to your grandmother.
Birthday Announcement
The birthday announcement should go at the top of your invitation. This is the first thing that invitees read when they open your invitation. Include your grandmother's first name in the heading, followed by the milestone birthday age if it applies. For instance, "Ellie is turning 80!" is an attention-grabbing opener for your invitation. If this is not a milestone birthday, a simple "Ellie is having a birthday!" will do. Prospective guests who receive the invitation will automatically know what the invitation is for.
Party Information
Prospective guests need to know the details of the party, such as the date, time, location and a little bit about the party's theme if there is one. Keep this information specific and straightforward, leaving no room for confusion. An example of this is to write out the date of the party, including what day of the week the party falls on. For instance, instead of writing 10-8-11, write Saturday, October 8th, 2011. This immediately lets invitees know that the party is on a Saturday. If the party has a theme, such as if it is going to be a pool party, it is best to say so on the invitation. A sentence like, "Please bring your swim suits so we can splash into a new year with Ellie at the pool!" will let guests know what to expect.
Sentimental Poem
Give your invitation a sentimental touch by writing a short poem about your grandmother. You might write, "My grandmother's birthday is a few weeks away, so I'm throwing a party in honor of her day." Something like this will make your grandmother's friends and relatives ooh and aah.
Response Information
It is standard invitation etiquette to let invitees know who to contact to RSVP for the party. This information should go on the bottom of your invitation. Provide the name of the person to contact along with their phone number. Additionally, give prospective guests a deadline for responding by, because you may need to know the final head count in order to get things ready for the party.
Photo Credits
Jupiterimages/Photos.com/Getty Images