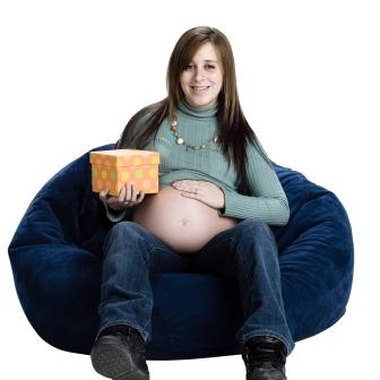 Like any other occasion, baby showers were once fraught with strict rules of etiquette. Breaking or even bending a rule could result in the offending party being ostracized, shunned or banned from future events. Today, the rules are much more flexible, with good taste and common sense taking the place of formal codes of conduct. When given tactfully, money can be an appropriate baby shower gift.
Themed Showers
Some baby showers are designed around a specific theme. Examples include a book shower to build the baby's library or a beauty shower for the mom-to-be. Although guests are never required to give gifts that match the theme, it can be fun to play along. If you are unsure what to give, a gift card to a store that matches the theme is an appropriate choice. Some showers are actually designed around cash gifts, such as the money tree or wishing well shower.
Cash
Historically, cash was seen as a sort of lazy gift, implying that the giver did not take time to pick out something appropriate. In the new millennium, however, cash is increasingly seen as a useful and practical gift. The proper amount to give varies widely according to regional and family customs, but should never exceed what you can comfortably afford. To avoid potential awkwardness, tuck the cash into an envelope and place it inside a nice card.
Gift Cards
Once considered a tacky alternative to the even tackier cash gift, today gift cards are generally acceptable. If the parents are registered at a particular store, a gift card allows them to purchase things that were not selected from the registry. Otherwise, select a store that offers a wide range of merchandise that suits the family's taste. If you do not know the parents well, a prepaid Visa or MasterCard is the most flexible non-cash option.
Other Possibilities
If you are close to the parents, consider giving a gift of time rather than money. Certificates redeemable for babysitting, cooking, cleaning or other household tasks are highly useful for new parents. Hand-written certificates create a personal touch, but computer-generated certificates are acceptable. If you prefer to give money, consider opening a bank account for the baby. Shop around for a national bank with a low initial deposit requirement and excellent return on deposits. A bank account makes it easy for parents to save and provides an additional option for future gifts from far-flung friends and relatives.
Resources
Photo Credits
Photos.com/PhotoObjects.net/Getty Images