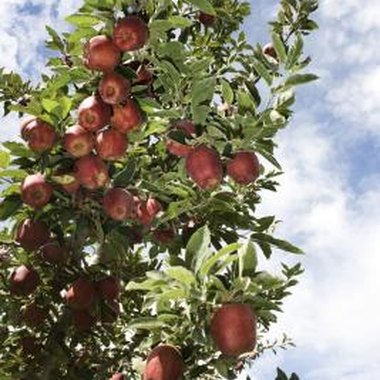 Ontario's countryside is home to the "apple route," a string of orchards that offers the opportunities to pick different apples during the autumn season. In southwest Ontario, however, farms mostly focus on berries, which means that residents have to drive a little further to find the pick-em-yourself apple orchards.
Avalon Orchards
Located in Innisfil, Ontario, Avalon Orchards provides u-pick apples that are organic and naturally resistant to diseases. The orchard is open to the public every year, and tours are regularly scheduled in September and October. Schools and organized groups often visit the farm to learn about apple growing. The orchard provides a wagon ride, short woodland walk and apple cider to touring guests. Avalon Orchards does not use any chemicals or fertilizers, herbicides, insecticides or fungicides.
The Farmer's Pantry
In the Blue Mountains, The Farmer's Pantry provides apples as well as a variety of fruits and vegetables. The early season for apples starts in August. At the farm, you can find early Gold, Jersey Mac, Paula Red and Golden Russet apples. In addition to picking your own, The Farmer's Pantry also opens a market in September and October. The Farmer's Pantry also accommodates group trips and a tour of the orchard and barn.
Cricklewood Farm
With 11 acres along the northeast shore of Lake Ontario in Brighton, Cricklewood Farm has 44 varieties of apples. The Cricklewood Farm also has an experimental plot that develops new varieties. In August at Cricklewood, you can find Scotia Mac and Paula Red apples, but in late October, the farm produces even more apples, from Ambrosia to Idared and Red Delicious varieties. The farm also runs a store that provides samples to visitors.
Pieter's Appleyard
In Colborne, Ontario, Pieter's Appleyard offers 37 different variety of apples, from Ambrosia to Wolf River. The orchard is open for picking from the middle of August to the last day in October. In addition to apples, Pieter's Appleyard also grows pears. The farm also offers apple cider, honey, cheese, jams, fudge and Turkish delight. The farm is continuously working on new strands of organic apples and picks apples throughout August, September and October. However, visitors can also pick their own.
Photo Credits
Thinkstock/Comstock/Getty Images