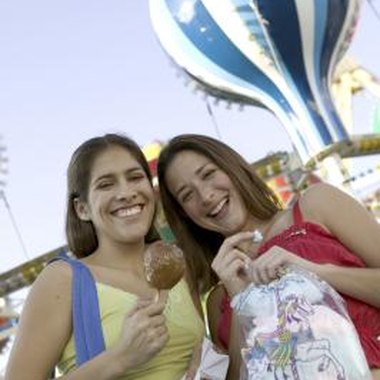 Since 1973, Berkeley Springs, West Virginia, has hosted an Apple Butter festival each year on Columbus Day weekend. The festival's purpose is to celebrate the sweet-tasting butter that's made from apples plucked from nearby orchards. But the festival also offers activities for the community and visitors to partake in. Food, vendors and live entertainment combine to make for a two-day event that's steeped in local tradition.
Food
Apple butter, the main culinary attraction at the festival, is not only sold on the fairgrounds. Community groups also make the butter at the festival, using about a dozen bushels of apples per kettle and plenty of manpower to keep it stirred. After sugar and spices are added, festival patrons can sample it or purchase it by the jar. Apples are also the main ingredient in other treats for sale, including apple cider, apple dumplings and apple ice cream.
Main Events
The Apple Butter Festival is somewhat of a homecoming event for the local community. As such, there is a themed parade each year on the morning of the first day of the celebration. This gives local performance troupes and bands a chance to show their stuff. Other attractions include hog calling, pumpkin decorating, turtle racing and beard and mustache contests, for which prizes and awards are given out each year.
Live Entertainment
From theater to live musical performances, there's no shortage of entertainment at the two-day Apple Butter Festival. Attendees gather at the park bandstand to hear string bands, vocalists and fiddlers perform. Artists are generally from the Maryland-West Virgina-Pennslyvania tri-state area. The surrounding arts district also features galleries that are open to festival attendees during the weekend event.
Commerce
Like other cities that host similar events, Berkeley Springs' economy benefits greatly from the influx of visitors who come to the Apple Butter Festival each year. Aside from food and tickets to see live entertainment, several vendors at the festival sell crafts and traditional home goods. Festival-goers can also purchase festival memorabilia to commemorate the year or theme of the event.
Photo Credits
Creatas Images/Creatas/Getty Images