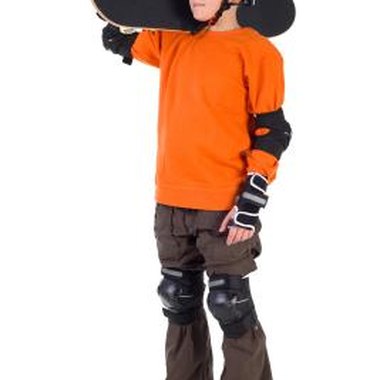 There are dozens of skateboarding tricks, including the ollie, the acid drop, the casper and the anti casper. The anti casper is one of the most basic skateboarding tricks, but it takes practice and perseverance to master. This skateboarding trick is the opposite of the casper, a move that requires you to stall the board with the tail end of it lifted in the air.
Step

1
Roll on the skateboard and maintain a steady speed.
Step

2
Position the front foot just behind the front bolts on the board. Position the back foot near the board's tail.
Step

3
Bend your knees, then pop your body up, lifting the rear foot off the skateboard. Maintain the position of your front foot on the board.
Step

4
Push down on the front of the board with your front foot to tip the rear of the skateboard in the air.
Step

5
Slip the rear foot under the rear of the board, which is now in the air. Maintain the front foot on the nose of the deck. Slide along a suitable surface or stall the board.
Step

6
Kick the skateboard with the rear foot to force it into a 180-degree spin. Land with both feet flat on the top of the skateboard and all four wheels on the ground.
Photo Credits
Jupiterimages/Photos.com/Getty Images