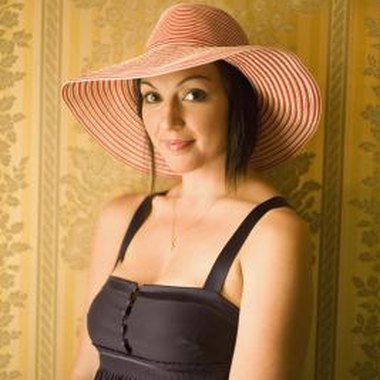 Like a crime novel spectacular, with all the usual suspects, the TV miniseries "Everything She Ever Wanted," based on the novel by Ann Rule, brings Southern belles and gentlemen to life with a touch of mystery. In the perfect world of Southern America, lives begin to shatter, as a marriage begins to break down. Starring Gina Gershon as Pat and Ryan McPartlin as Tom, Ann Rule's two-episode miniseries brings back the suspense that only crime fiction can generate.
A Marriage between the Beautiful and the Rich
The combination of a self-assured, sensual woman and a handsome man sets the plot in motion. Tom is rich, and Pat knows it. Her upcoming marriage to Tom at the expense of Tom's first wife and two children is viewed by some as a marriage of convenience -- namely, Pat's convenience. Pat desires to live a successful and rich lifestyle -- or at least it appears that way. Yet as Tom's marriage to Pat looms, Tom's rich parents have other plans.
When Opinions Are Divided
What Pat does not realize is that many people are against her marriage to Tom, as some suspect Pat is simply after Tom's money. To that end, following Tom's marriage to Pat, Tom's parents decide to denounce him. Tom is shocked to be suddenly shunned and begins to wonder whether he has indeed done the right thing in marrying Pat.
Overspending and Debts Cause Tom Trouble
Knowing that Tom's parents have denounced him but keen to keep up appearances, Pat continues living the extravagant lifestyle she has become used to with Tom and even convinces him to go into debt to purchase a mansion with horse stables. Burdened by debts, Pat gets Tom's grandparents to move into the mansion in the hope that they might help their situation -- yet Pat may very well be hiding her true intentions.
When Bad Moves to Worse
Mysteriously, Tom's parents are killed in an incident involving a break-in at their property, and suddenly Tom becomes the prime suspect. Tom is offered a deal by the prosecutors, yet Pat convinces Tom not to settle. Tom does not realize the danger of not accepting the deal and soon finds himself in jail. With Tom's grandparents growing slowly ill, Pat may soon be alone -- or is that how she planned it all along?
Photo Credits
Jupiterimages/Brand X Pictures/Getty Images