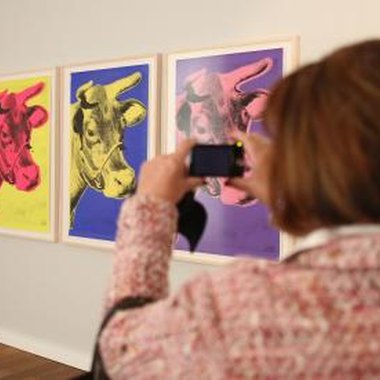 Andy Warhol lived from 1928 to 1987. His signature art style was silkscreened, mass-produced canvas art in variations of color in multiple editions. Some of his most recognizable artwork depicts Campbell's soup, though his subject matter also included famous people, the Birmingham race riot, endangered species and contemporary American culture.
Art Style
Andy Warhol used commercial silkscreening to create multiple copies of his art pieces. Based on close-up portraits of his subject material, silkscreen techniques enabled him to produce the same image in multiple color variations. He commonly used bright, upbeat colors to portray the images in the silkscreen art work. While silkscreening was his predominant style later in his career, Andy Warhol also made films, sculptures, album covers and drawings.
Campbell's Soup
Andy Warhol used soup as the focus of his art in multiple pieces. One of his most iconic and recognizable pieces is the rows of Campell's soup cans showing the variety of soup available. Campell's soup cans were prominently displayed in a variety of pieces in the 1960s and again in the mid-1970s. His last soup can piece was produced in 1985. Robert Indiana, who knew Andy Warhol well, reported that the reason Andy used soup cans in his art "is that he liked soup." Other food-related art included Coca-Cola bottles and Brillo boxes.
Portraiture
Andy Warhol used people as the subject of his art on numerous occasions. He used Marylin Monroe, Jacqueline Kennedy, the assassination of John F. Kennedy, Elvis Presley, Muhammad Ali and Elizabeth Taylor.
Politics in Art
Warhol's subject matter was not limited to popular culture or people. Politics and newsworthy events and imagery were also captured in his art. The Birmingham riots were captured along with several other images of the civil rights movement. Mushroom clouds, electric chairs and police dogs were also depicted.
Photo Credits
Andreas Rentz/Getty Images Entertainment/Getty Images