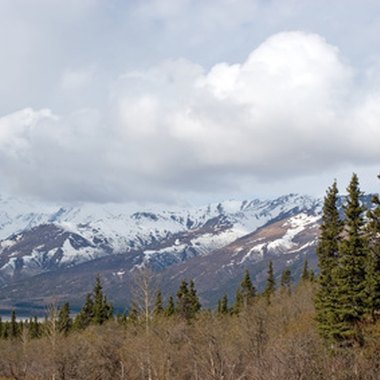 Anchorage is part of Alaska ... or is it? Many Alaskans nickname their biggest city "Houston of the North" for its fast-food soul and rambling urban sprawl. Lacking the charm of a downtown core, Anchorage does not lend itself to delicious strolls between neighborhoods. The wise traveler will identify her intentions in visiting Anchorage and select a hotel in the vicinity of those plans.
Downtown
If any one hotel represents the Alaska oil boom, it is the Captain Cook, erected as a monument to new prosperity in the hopeful '60s. Its 500-plus rooms and suites are showing their age but remain passingly posh and come with top-notch views of "real" Alaska. Both the hotel tower and the price are about as high as it gets in Alaska. For a different historic perspective, try the Anchorage Hotel, originally constructed when Alaska was a territory and for many years the lone fancy spot in town. Renovated in 1989, the hotel retains its old-world charm. Enjoy its authenticity and friendliness but look out for noisy neighborhood bars,
Midtown
The underbelly of Anchorage is termed "midtown" and is bounded roughly by 15th Avenue and West Tudor. If meetings bring you this way, choose among various upper-cut chain hotels. A top pick is the elegant Embassy Suites, with comfortable rooms, a nice swimming pool and a shuttle to downtown locations. For family accommodations, try a double room at the Springhill Suites Mid-town, a typical Marriott hotel with 101 spacious kitchenette suites. Add to that a small pool, whirlpool and exercise equipment for those cold winter afternoons. New kid on the block is the Bent Prop Inn and Hostel, offering nice suites -- shared or private -- at very low rates.
Airport
A good bed, a quiet room and a free shuttle to and from the plane. For those just passing through, select among well-known names. Courtyard by Marriott gives a traveler what she needs in an airport hotel, with a nice view thrown in for good measure. The Holiday Inn Express offers a good, free breakfast bar; although this is pretty standard in this chain, it is unusual in Alaska.
University
Located in Anchorage suburbia close to the University of Alaska and Alaska Pacific University, the Camai Bed and Breakfast offers homey rooms and a big breakfast at a reasonable price. One of the four rooms has a functioning kitchen. If you visit in summer, check out the beautiful backyard full of wild flowers and an occasional moose. The only big hotel in this area is another Springhill Suites. Newer and more modern than the Mid-Town, Springhill Suites University Lake's location is a definite plus -- a quiet neighborhood beside a small lake. It's close to the university but few restaurants.