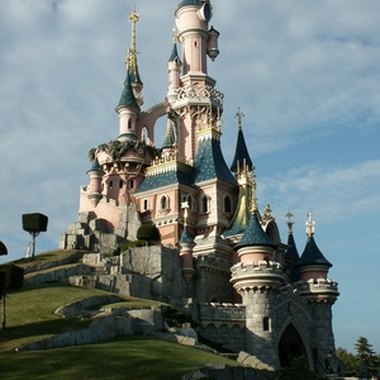 Anaheim, California, is a city in Orange County that is notable as the home of Disneyland Resort, which contains the theme parks Disneyland Park and Disney California Adventure, shopping and dining opportunities in Downtown Disney and three hotels. Accommodations of all sizes are located in Anaheim, but luxury hotels center around this attraction and often sport Disney-themed furnishings, amenities and artwork.
Disney's Grand Californian Hotel & Spa
As one of Disneyland Resort's three hotels, Disney's Grand Californian Hotel & Spa is within walking distance of the many attractions and entertainment opportunities in the resort. The hotel has 745 units, with a simultaneously rustic and luxurious quality, and evoke the Arts and Crafts design movement with lushly colored, intricate decor. The hotel features multiple swimming pools immediately outside the front door, including a twisting water slide. Intended for guests aged 5 to 12 is Pinocchio's Workshop, a night of Disney-themed entertainment, games and snacks. Many on-site facilities, including three restaurants, a fitness center and a video game arcade, are available to all guests.
Hilton Anaheim Hotel
The Hilton Anaheim is a luxury hotel that specializes in both business- and family-oriented stays. The guestrooms are smartly styled, with sharp lines and rich tones of white and brown. Suites reach up to 1,600 square feet in area and feature original artwork, and guests may rent video games and films on their LCD TVs. The front desk arranges such services as babysitting, pet sitting, children's activities and in-room care for the elderly.
Carousel Inn and Suites
The Carousel Inn and Suites is a luxury boutique hotel on the outskirts of the Disneyland Resort. The guestrooms are aesthetically pleasing, each adorned with Disney artwork, and the suites are quite extravagant, with private granite bathrooms, designer furniture, luxury bedding and panoramic views of the Disneyland area. Each room is appointed with soft earth tones, accented with pops of bright color. Guests in Club Level suites are additionally allowed access to the private club lounge. Hotel amenities include bell service, room service and access to the rooftop pool.
The Disneyland Hotel
The first hotel in the world to bear the Disneyland brand, the largest hotel in Disneyland Resort was built in 1955 but has been entirely renovated since then. The 995 rooms all incorporate touches of Disney and range in luxury from two-person units to large-party suites to Club Level rooms, which allow access to a private lounge. A monorail runs right outside the hotel for speedy access to and from Disneyland Park. One of the main attractions at the Disneyland Hotel is the 5,000-square-foot swimming pool on the grounds.