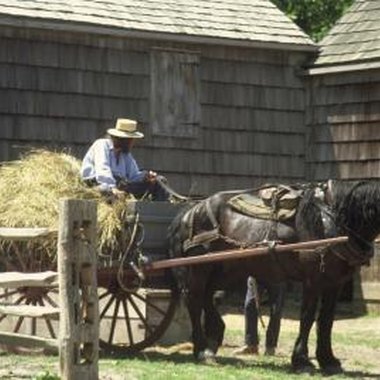 The first of Oklahoma's Amish communities was established in the 1890s in Custer County, but that community dissolved. The largest "Old Order" Amish community today is in Mayes County near Chouteau, where members have lived since 1910. Although the Amish are self-sufficient, they must pay taxes on their homes and land, and they need some items that require money, so they often will have events to raise funds.
The Amish School Auction, Crafts and Antique Show
Each year on the second Saturday of September at the Ben Troyer farm, six miles south of Tupelo on State Highway 48, the local Amish community holds an auction as a fundraiser for their school. Individuals who enjoy Amish crafts will find homemade quilts, glassware, furniture and antiques on the auction block. Livestock, poultry, farm equipment and a wide variety of homemade baked goods are available as well.
Second Saturday Ash Flat Market and Consignment Auction
On the second Saturday of every month, a market and consignment auction takes place at the Schmelzer's building in Clarita. Attendees browse through booths featuring deals on farming tools and equipment, hunting and fishing items, household decorations, building supplies, house fixtures, lumber, Amish quilts, antique tractors and other items. As with many auctions, it's a good idea to get there early to see what you might want to bid on before the auction starts. The auction starts at 10:30 a.m. and continues until everything is sold. On occasion, antique dealers, buggy makers, woodworkers, spinners and weavers, potters and blacksmiths will attend, showing their wares.
Clarita Auction
The Brontrager family, part of the Amish community, holds an auction on the third Saturday of each month in Clarita. This event has been taking place for just a few years, and anything from farm equipment to antiques could be for auction.
Black Buggy Day
Held each September in Chouteau, Black Buggy Day celebrates all things Amish. Festivities include bluegrass music, kids' games, and arts and crafts. Members of the Amish community serve food such as hot chicken and noodles, freshly made pies and bread, cinnamon rolls, smoked ribs and kettle corn. Traditional fair food such as funnel cakes, corn dogs, hamburgers and more is also available.
Photo Credits
Ablestock.com/AbleStock.com/Getty Images