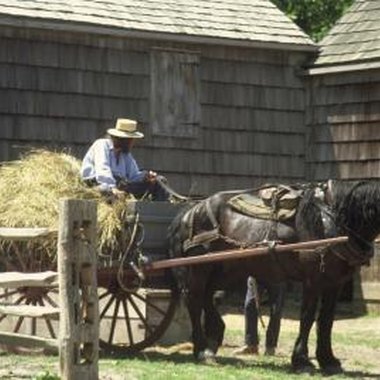 The Amish have a long history and deep roots in Iowa. Found living according to their customs and traditions, Iowa Amish live largely near the towns of Kalona and Bloomfield and throughout Buchanan County. Amish communities in Iowa host events and celebrations to share their heritage every year, with visitors and among themselves.
Kalona Fall Festival
The Amish village of Kalona, Iowa, hosts an annual Fall Festival (kalonaiowa.org) to celebrate and honor local heritage and Amish culture. The festival takes place in late September, to take full advantage of the early season colors as leaves turn and the weather cools. Kalona locals present exhibits and tours of Amish life. Antique farming equipment, chainsaw sculpture and other large scale Amish craft work is on display at the Kalona Fall Festival. Food, horse and pony rides, and activities and games for children are also featured, so that visitors of all ages can experience a taste of Amish life in Iowa.
Amish Harvest Tour To Cure Cancer
A local Amish spin on the classic charity bike ride, the Amish Harvest Tour (kansascyclist.com) takes cyclists from around Iowa to explore the Amish countryside while raising money for cancer research and support. This bicycle tour takes riders through the hills of Iowa, past Amish communities and along roads once traveled by stagecoach alone. Local volunteers offer riders the chance to sample traditional Amish fare and hospitality as they ride for a cause. The event takes place in late summer, when days are still warm and long.
Quilt and Craft Show
The annual Quilt and Craft Show and Sale (kalonaiowa.org) is an opportunity for visitors of Iowa locales to explore the world of Amish crafting and quilting. Amish traditional handiwork is recognizable and beloved around the nation for its simple aesthetic and durability. This spring event takes place in mid- to late April in the so-called "Quilt Capitol of Iowa" of Kalona Village.
Self-Guided Bloomfield Tours
At any season, visitors can partake in a self-guided tour of a working Amish community in Bloomfield, Iowa. This thriving community welcomes visitors to explore its customs of architecture, food, and crafts. Woodworking, quilt shops, greenhouses and buggy shops can be found with a map of local shops. The tour will lead you toward the town of Drakesville, past many Amish homes and the local schoolhouse.
Photo Credits
Ablestock.com/AbleStock.com/Getty Images