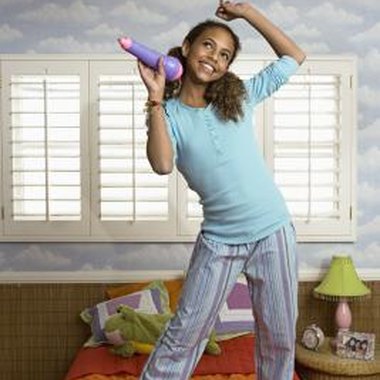 If your child is a fan of "American Idol," it may not surprise you when she requests an "Idol"-themed birthday party. Set the mood of the singing talent show with appropriate invitations and exciting games planned for her party guests. Bring out the superstar in your daughter and her friends with an "American Idol" party.
Basic Invitations
Basic invitations are simple and do not require much effort. Purchase "American Idol"-themed invitations online or at most party supply stores. Make your own by cutting out the shape of a microphone or printing pictures of microphones and writing the party details on them. Include all the pertinent details: "Are you the next American Idol? Come to _____'s party to find out. Auditions tryouts are at (time), (place) and (date)."
Singing Contests
No "American Idol" party is complete without an official singing contest. For guests who want to participate, allow 20 minutes for practice. Tell the guests they can compete alone or in groups. Purchase, rent or borrow a karaoke machine for the singing contest. Make contestant badges by printing the "American Idol" logo on sheets of paper and using a black marker to write numbers on each one. Select three adults to judge the competition. Award prizes for the best singer, best performance and bravest performer.
Fancy Invitations
Make your invitations sparkle by cutting a microphone shape out of card stock and painting the round part at the top with glue. Sprinkle with silver glitter to make it shine. For added decoration, attach a small microphone keychain to each invitation and mail in padded envelopes. Include wording such as: "We are searching for an 'American Idol' superstar at _____'s next birthday bash" or "Come lip-synch, dance, perform, sing or do it all at ______'s 'American Idol' birthday party."
Games
Put an "American Idol" twist on classic games like Pin the Tail on the Donkey with a game of Pin the Microphone on the Girl or Pin the Singer on the Stage. Instead of Hot Potato play a game of Hot Microphone. Make an "American Idol" prize game by printing several pictures of the "American Idol" judges and write a number on each picture. Write the same numbers on slips of paper and place them in a bowl. Play music and tell the players to walk around the pictures. When the music stops, each player must stand on a picture. Draw a number from the bowl and the player standing on that number wins a prize.
Photo Credits
Jupiterimages/Brand X Pictures/Getty Images