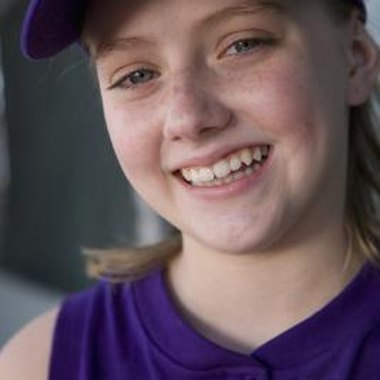 American Girl dolls are a hot toy among girls ages 6-12. The 18" dolls look like 10-year-olds and celebrate all that girls can be. The big attraction is that the dolls have hair and skin colors you can order to match your own girl's complexion, as well as hundreds of accessories. An American Girl birthday party will be a huge hit among young guests and the birthday girl herself.
Setting It Up
To begin the plans for your American Girl birthday party, you can order printed invitations from stationery retailers or you can make your own invitations. Whichever you choose, make it clear that you want your guests to bring their American Girl dolls or similar 18" dolls to the event and to dress like the dolls if possible. Offer to provide a doll for guests who don't have their own American Girl doll.
What to Do
Once guests arrive, hand out name tags. Have large name tags for the girls and small name tags for their dolls. Have the girls sit in a circle and introduce themselves and their dolls and share information about their dolls' personalities. For an activity, allow each guest to design a mini T-shirt or tote bag for her doll. Buy the plain doll clothes at a craft store. Provide fabric markers and offer to hot-glue sequins and plastic gems onto the shirts or mini-bags.
What to Serve
When it comes to food, big and small goodies are a must. For girls, serve ice-cold chocolate milk, hamburgers, cookies and cupcakes. Make mini-versions of these to serve the dolls as well. Use shot glasses for the doll-sized milk cups. Set up two tables: a large table for girls and a small table for their dolls. Girls will have a ball pretending to feed their dolls. It's photo-op time, so be sure to get a lot of pictures.
At American Girl Place
Consider throwing a birthday party at an American Girl store, if you are lucky enough to live near one. American Girl has franchises across the country. Some of the locations have cafes. The stores host parties regularly and offer packages ranging from simple restaurant meals and treats to private dining experiences with hair salon treatments for dolls and goodies and souvenirs for guests. Some locations even offer late-night parties for girls who want the store to themselves.
Photo Credits
Jupiterimages/Brand X Pictures/Getty Images