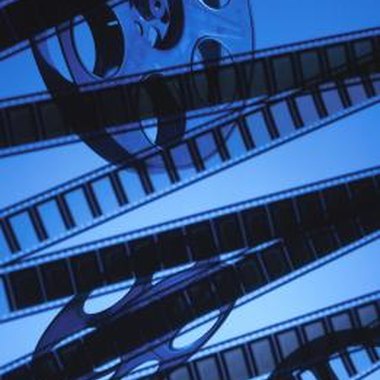 Whereas many film festivals cater to big-budget movies or films by acclaimed directors that win the hearts of critics, another breed of film festival presents movies made by aspiring filmmakers with scarcely a dollar behind them. These amateur films are low-budget affairs, made more for love of the medium than for any business purpose -- but, nonetheless, they may still be impressive in their own way and can help up-and-coming actors and directors get noticed.
U.S. and Canada
Festivals across these countries include the Reel Youth Film Festival (reelyouth.ca/RYFF.html), which aims to promote the work of up-and-coming filmmakers and also places an emphasis on community, youth culture and sustainability. This short-film festival is open to entries by individuals under the age of 20 and tours around Canada, beginning at the Vancouver International Film Festival (viff.org). A Texan festival, the Rockport Film Festival (rockportfilmfest.com/about.html) is all about independent film across a variety of categories, from animation to documentaries. The festival shows works by student amateur filmmakers, alongside movies by more well-known directors and producers. Although not exclusively restricted to certain subjects, the festival does lean toward works with a Southwestern or humanitarian theme.
United Kingdom
Held each year in Weymouth, the British International Amateur Film Festival (mysoco.org/index.html) is a three-day event showcasing movies across a selection of four mini-cinemas. Prizes are given for the films voted best by the festival judges. The Festival of Fantastic Films 2011 (fantastic-films.com/festival/), held in Manchester, England, focuses on movies from both well-known and new filmmakers working in the genres of horror, sci-fi and fantasy. The festival offers an opportunity for low-budget filmmakers to submit work of either long or short length. A whole range of events is held at the venue each year, including auctions, interviews with special guests and exhibitions.
Europe
Plenty of amateur film festivals are held in Europe. In Italy, for example, the Venice International Film Festival hosts the CinemadaMare (cinemadamare.com/), a stage designed to show, promote and inspire young filmmakers. In addition to showcasing the work of amateur filmmakers, up-and-coming directors and producers can talk to established industry insiders and learn more about cinema. In Germany, the Independent Days (independentdays.de/basics/) festival is held each year in Karlsruhe. The restriction the festival places on the movies it shows is that each must have cost no more than 2,500 € for each minute of its running time; length and genre are not otherwise regulated. The festival is attended by both students and more experienced amateur filmmakers.
Elsewhere
In Africa, the iREP festival (irepfilmfestival.com/ABOUT.html) is an event focused on documentary movies, with each festival selecting a theme and exploring issues through the films it shows, such as disease and war. A touring film festival based in Nigeria, iREP is open to both professional filmmakers and amateurs. The Bin Film Festival (inthebin.net.au/Festival), a touring event in Australia, aims to present a wide variety of films, both in terms of genre and origin, to audiences nationwide. Although many of the films offered are produced by professionals, the festival also creates an opportunity for developing filmmakers to present their work.
Resources
Photo Credits
Hemera Technologies/AbleStock.com/Getty Images