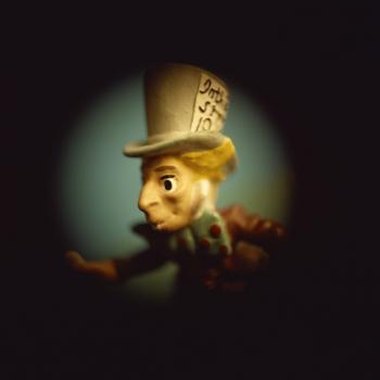 "Alice in Wonderland" is an animated film, created and produced by the infamous Walt Disney, that captured the hearts of America in July of 1951. Alice, the White Rabbit, the Cheshire Cat and the Mad Hatter combine efforts in the movie adapted from Lewis Carroll's literary works "Alice's Adventures in Wonderland" and "Through the Looking Glass."
Alice's Inspiration
The inspiration for "Alice in Wonderland" came from novels by Lewis Carroll about a real girl named Alice who founded and explored a hand-drawn world of fantasy. Disney had made short films based upon Carroll's work but after much success with those as well as "Cinderella," Walt Disney made the decision to go for it.
Characters
Many young girls and women, including Mary Pickford, Ginger Rogers and Luana Patten, were considered for the part of Alice before Kathryn Beaumont was cast. Beaumont was also the voice of Wendy from Disney's next animated film, "Peter Pan." The original characters in Disney's "Alice in Wonderland" include Ed Wynn as the Mad Hatter, Richard Haydn as the Caterpillar, Verna Felton as the Queen of Hearts, and Sterling Holloway as the Cheshire Cat. The only character added by Disney was the talking doorknob, played by Joseph Kearns.
Alice in Wonderland (1951)
Four years and 3 million dollars later, the animated production of "Alice in Wonderland" was completed. Disney had postponed the creation from the time that original concept was planned until World War II was over, and a 50-piece orchestra along with more than 1,000 hues of watercolors went into the scene-by-scene drawings. Alice falls down the White Rabbit's hole into a fantasy world where she encounters many animated friends. Mid-century film critics and the public did not fully embrace the film at first because it did not visually portray the rich text of Lewis Carroll's "Alice's Adventures in Wonderland" and "Through the Looking Glass."
Alice in Wonderland (2010)
In 2010, Tim Burton combined efforts with the Disney corporation to remake the original "Alice in Wonderland" with a twist. Alice revisits Wonderland as an adult and reconnects with her childhood friends while saving the fantasy land from the Queen of Hearts and her reign of terror. Stars including Johnny Depp, Mia Wasikowska, Anne Hathaway, Crispin Glover and Helena Bonham Carter, among others, used their talents to bring Alice back to an updated household name.
Photo Credits
Jupiterimages/Comstock/Getty Images