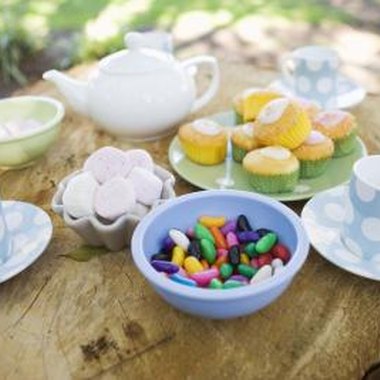 A bridal shower theme inspired by the whimsical world of "Alice in Wonderland" promises to be a truly memorable event. At the shower, guests will find a blend of the traditional, delicate beauty of a sophisticated tea party mixed with a colorful, quirky spin of the magical world of Wonderland.
Invitations
Begin the Alice in Wonderland event with theme-appropriate invitations. When selecting a design, use invitations that feature elegant Victorian ink drawings of Alice in Wonderland. Borrow lines from "Alice in Wonderland" and invite guests with a whimsical poem that includes, "Don't be late, don't be late for a very important date." Pair the text with a picture of the White Rabbit, hopping eagerly across the page. As a final touch, stick some playing cards and a bag of tea into the envelope before sending it on its way.
Decor
Create the whimsical world of Wonderland by embracing bright colors and dainty patterns for the bridal shower tea party. Dress a table in a floral tablecloth that boasts exuberant colors, topped with lovely Victorian-patterned dinnerware that matches the color scheme. Tying colorful aprons to chairs is a quick, fun way to decorate the seats. For centerpieces, carefully glue together a stack of vintage teacups, then top them with a bunch of pale roses. Delicate pink roses in simple vases add a classic look to the event.
Activities
No bridal shower is complete without delicious food and drinks, presents for the bride to be, and quality time with the ladies. In addition to these standard events, throw in some activities that are straight from "Alice in Wonderland." After tea time, take advantage of fair weather by initiating a lively game of croquet. Ambitious hosts can even paint hedgehogs onto the balls and flamingos onto the mallets. Let guests show off their creativity by painting their own tea pot or doing other related crafts.
Food & Beverages
Fill the table, as well as the guests, with dainty snacks that are fit for a tea party. Tiny cupcakes with a luscious layer of frosting, tarts and pastel macaroons have a delicate appearance and sweet taste that add to the sophisticated feel of a tea party. For a luncheon, serve a chilled summer soup and tiny sandwiches to go with the tea. Petit fors in an assortment of lively colors labeled with an "Eat me" sign, as well as gourmet soda bottles labeled with "Drink me," will make guests feel as though they're in Wonderland.
Photo Credits
Jupiterimages/Goodshoot/Getty Images