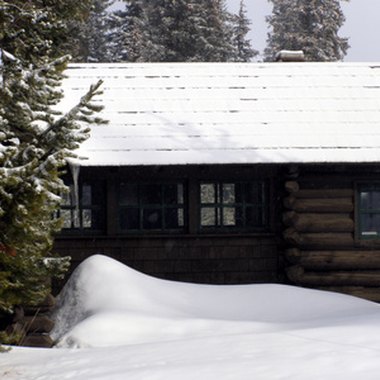 Romantic means more than white lace and promises. The word derives from Latin for "tale," implying an experience a little larger than life. In that sense, any trip to remote Alaska must be romantic, since the Last Frontier is the stuff of legends -- the hugeness, the extremes of temperature and light, the wildlife. For those drawn to the kind of romance Alaska offers, remote cabins are scattered around the state, waiting to welcome you into your very own fairytale. So grab a bottle of wine, a book of poetry and a true love and head north.
Southeast Alaska
Misty Fjords National Monument -- Yosemite of the north -- comprises the southern tip of Alaska's panhandle. Take a float plane to U.S. Forest Service cabins on Revillagigeda Island, 28 air miles from Ketchikan. Try Checats Cabin, perched on a knoll overlooking a glacially formed lake. Wood stove, creek water, ax and broom are among the amenities, and the pristine scenery and black bear are thrown in for free. Or try Ella Narrows Cabin on Ella Lake. It's located in a stand of old growth spruce, hemlock and cedar, minutes from a sandy beach. Price is low and adventure guaranteed, but bring your own everything else.
South Central Alaska
Remote, romantic but civilized. Sadie Cove Wilderness Lodge offers cabins and solitude on a remote beach inside Alaska's Kachemak Bay State Park. Accessible only by boat, float plane or helicopter, the Lodge runs on wind and hydro power. Choose between five hand-built driftwood cabins, and take meals in a dining hall with a beautiful view of Sadie Cove. Alternatively, go really rustic with Alaska state public use cabins. Choose Decision Cabin if the time is right, on Decision Point State Marine Park, eight miles east of Whittier. The 16-foot-square spruce-log cabin can be reached by private boat, kayak, float plane or commercial water taxi.
Denali Park
Deep in the wild heart of Denali National Park, Camp Denali sits beside a pond that reflects 11 major peaks of the Alaska Range. Guest cabins -- complete with hand-sewn quilts, wood stoves and propane lights -- are spaced far apart along an ascending ridge line. Each enjoys a view of Mount McKinley. The substantial price includes great meals in the lodge dining hall and optional guided hikes. For a smaller price and more rustic experience, try a state cabin in Denali State Park, bordering Denali National Park. Byers Lake Cabin no. 2 is a cozy log cabin with a window looking directly at Mount McKinley. The setting is quiet, filled with wildflowers in the summer.
Fairbanks Area
Try for a peek at the northern lights in a romantic setting in the White Mountains, 45 minutes north of Fairbanks. Trailhead Cabins perch at 2,500 feet with a sweeping view of the boreal forest. The cabins are one room, with a kitchenette including microwave and refrigerator. Winter aurora borealis viewing is not guaranteed but likely. Or head east from Fairbanks to the Chena River State Recreation Area's 254,000 acres and rent a public use cabin. The Hunt Memorial cabin has a cute loft area, an airtight wood stove and propane lanterns. Sit on the little porch and look out over the crystal-clear Chena River.