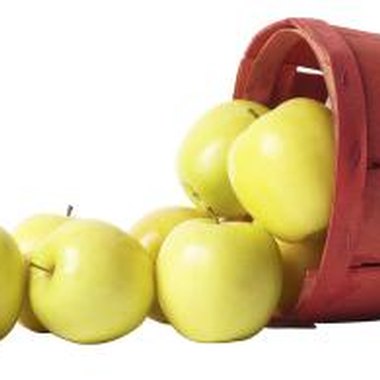 If your teen is celebrating a 15th birthday this November, develop a fall or Thanksgiving theme for the event. Incorporate the guest of honor's interests and hobbies into the party planning to come up with a sports-themed indoor event or an outdoor celebration that allows guests to enjoy the rich colors of autumn.
Fall Festival
Turn your backyard into a fall festival by setting up booths where your son's guests receive tasty fall snacks, like candied apples, hot cider and roasted corn. Make space in the yard for guests to participate in activities like three-legged or potato sack relay races, or break into teams for a pumpkin-carving contest. Serve a carrot or spice cake shaped like the number 15 as the main dessert, and purchase a plastic cornucopia so your son's guests can pick favors, like iTunes gift cards or mini versions of your son's favorite cookies, before heading home.
Thanksgiving Dinner Party
If your daughter wants to have a more "grown-up" celebration, a 15th birthday Thanksgiving dinner party is fitting. It may be best to have the party early in November in case your teen's friends are traveling for the holiday. Encourage your daughter's guests to wear dressy clothing to the event, and reserve space at her favorite restaurant for her and her guests to dine. Serve her cake after dinner, and allow time for her friends to present her with gifts before they complete the celebration with a movie afterward.
Thanksgiving Football Party
Football and Thanksgiving tend to go hand in hand, so a 15th football-themed birthday makes a memorable party if your son is a sports fan. Purchase balloons and streamers with the number 15 displayed on them. Showcase the logo of his favorite team in the form of tablecloths or a framed jersey with the name of the player he likes best. Invite 15 of his closest friends, and serve traditional tailgating fare, like hot wings, nachos and mini pizzas.
Apple or Pumpkin Orchard
If there is a pumpkin or apple orchard near your home and your teen loves the outdoors, a November birthday party at one of these locations is ideal. Invite your teen and 15 guests to pick fruits from the orchard and ask one of the employees to carve the number 15, or your teen's name, on a pumpkin as a birthday souvenir. Arrange for the guests to enjoy treats from the orchard, like apple cider and pumpkin pie at the party site, and take several pictures to add to your teen's scrapbook.
Photo Credits
Hemera Technologies/PhotoObjects.net/Getty Images