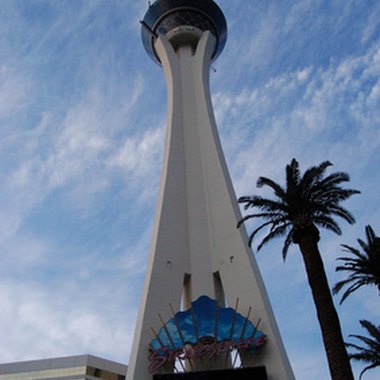 Many Las Vegas expenses have greatly increased over the years -- those dollar buffets are a relic of the past -- but cheap lodging is still easy to find in the city if you know where and how to look. Do some research at home before you fly to the desert, and you should be able to pocket some extra money for the slots.
Locations
While cheaper hotel rooms can be found all across the city, you should focus your search on the main tourist areas of the Strip and downtown if you plan to hit the Las Vegas highlights. Generally, lodging costs decrease the farther north you go on the Strip, and nearly all hotels on Fremont Street in the downtown area offer low rates. Many of these properties offer fewer amenities and basic rooms compared to the swankier Strip resorts.
Misconceptions
If you have never planned a Las Vegas vacation, the cost of rooms may surprise you. Casino hotels frequently offer special rates -- lower than you will find at a chain hotel such as Best Western or Holiday Inn. The main reason is these resorts expect to make up the difference when you lose at the gaming tables or spend money on meals and show tickets. Visit the websites of resorts you are considering to check on specials, or visit online travel booking sites, where you can often find deals.
Best Budget Hotels
Travel guide Frommer's recommends Main Street Station and Golden Nugget as hotels with some of the best-value rooms in the city. Both properties are located downtown and offer rooms on a par with many on the Strip for less than half the price. If you are willing to spend a little more, Fodor's suggests staying at Strip properties such as Bally's and Flamingo. These hotels are budget priced compared to the likes of Bellagio and Wynn but offer nice amenities such as large pool areas and spacious rooms.
Transportation
If you book a room at a hotel on the northern end of the Strip or downtown, consider renting a car, as walking to the main attractions on the Strip is a chore, especially in the summer. City buses regularly run up and down the Strip to Fremont Street and offer low fares, but they can be very slow due to the frequent stops and heavy traffic on Las Vegas Boulevard.
References
"Fodor's Las Vegas 2010"; Andrew Collins et al.; 2009
"Frommer's Las Vegas 2009"; Mary Herczog; 2009
Photo Credits
stratosphere tower in las vegas image by Balogh Eniko from Fotolia.com