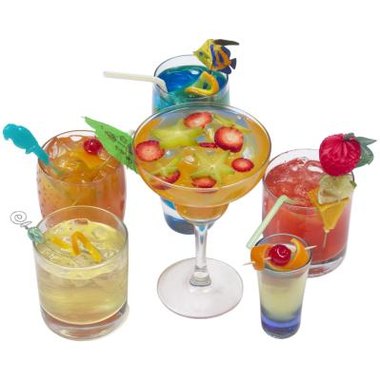 Pool parties aren't just a kids' summer activity. Throwing an adult pool party can be an excellent way to meet other singles, cool down and relax outside with friends and work on your tan. If you want your event to be a big success, choose your guests, decor and refreshments carefully and consult a pool party planning checklist.
Choose a Theme
You don't have to give your pool party a theme, but doing so can make it even more fun. Choose from stylish themes such as a Hawaiian luau, a Majorca beach holiday or 1960s California and have guests wear vintage swimwear. If you want a more playful theme, go with "Inflatable Fun" or "Spring Break." Even if it's not July, have an "Independence Day" theme. If your guests like to feel glamorous and on display, have a music video theme. Set up a camera, play dance music and tell guests to dress to impress.
Play it Safe
Hire a lifeguard for your party. Horseplaying adults and water are a potentially dangerous combination. Keep a first aid kit on hand. Offer a travel-size bottle of sunscreen to every guest so that sunburn doesn't ruin anyone's fun. Line the perimeter of the party area with citronella candles and provide bug spray. Make a poster with your own pool rules on it and hang it in a conspicuous location. Put rubber mats around the pool to keep guests from slipping.
Provide Entertainment
Hire a guitarist or piano player to play live music at your party. Supply plenty of inflatable toys for adults to play with. Set up a volleyball net across the pool and provide a volleyball. Create a "dance floor" with beach towels on the ground or patio and play dance music from your laptop. Rent a large movie screen and projector and play popular summer movies. Alternatively, provide low-key entertainment like board games or playing cards.
Serve Your Guests
Stock up beforehand with popular summer refreshments. Keep a handful of soft drink options available as well as lemonade, water and ice. Set up a table with snacks, such as chips and pretzels. If you're serving a meal, set up the table and chairs away from the pool in an area with plenty of seating and table space. Supply extra towels and plastic bags for wet swimsuits, and remind guests to bring dry clothes to wear after swimming. Provide trash bags in obvious places so guests don't have to search.
Photo Credits
PhotoObjects.net/PhotoObjects.net/Getty Images