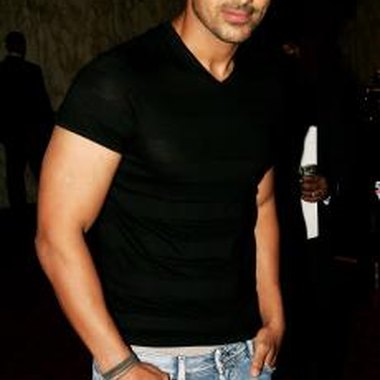 John Abraham is an Indian actor and one of Bollywood's most beloved heartthrobs. He started out his public career as a model but parlayed that into a successful film-acting career throughout the 2000s. Abraham has used his good looks and charm not only to find success in movies, but also to become one of India's most successful spokesmen for several brands.
Early Life
Abraham was born in Mumbai, India, on December 17, 1973. His father was an architect, and his mother was a basketball teacher who was originally from Iran. John was his parents' first born, and he has a younger brother named Alan. He attended high school at Bombay Scottish School, where he was the captain of the soccer team. He went on to receive a bachelor's degree in economics from Ja Hind College and an MBA in marketing from Mumbai Educational Trust. He then began his professional life in advertising as a media planner.
John the Supermodel
Fate had very different plans for Abraham beyond a life in advertising. He was asked by his bosses to fill in as a model when another model failed to show for an ad shoot. This began Abraham's interest in modeling, and he landed a few other small gigs before entering the Glad Rags Manhunt contest in 1999. After almost being refused entry for nearly missing the deadline, Abraham went on to win the entire competition. He went on to compete in the Manhunt International in the Philippines, where he was named first runner-up. By 2002, he was the highest paid Indian male model and worked around the world.
Acting Career
Abraham quickly turned his modeling success into a career on the big screen. The 2003 film "Jism" was important to him in two ways. It not only marked his first starring role, but it was also on the set of this film that he met long-time girlfriend Bipasha Basu. He followed it up with a few forgettable films before playing a motorcycle riding villain in "Dhoom" in 2004. The film was a big hit, and Abraham began a prolific career, making as many as seven films in a single year. Among his other hit films are the 2005 comedy "Graham Marsala" and the 2008 film "Dostana."
Awards and Endorsements
Abraham has been nominated for several awards for his work in film. In 2004 he was nominated for a Filmfare Best Debut Award for the movie "Jism." In 2006, for his work in "Dhoom," Abraham was nominated for another Filmfare Award, along with a Zee Cine Award nomination for Best Actor in a Villainous Role. He also received the Rajiv Gandhi Award for achievement in Hindi cinema in 2006. Abraham is a spokesman for many products in India. Some of the brands he is most notably associated with include Yamaha, ESPN and Garnier.
Photo Credits
Claire Greenway/Getty Images Entertainment/Getty Images