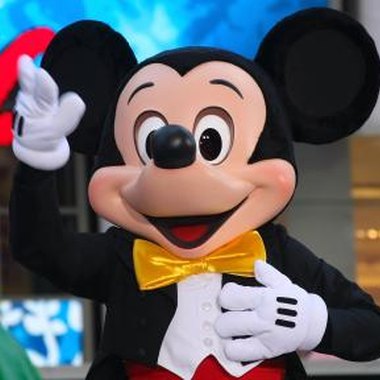 If your child loves Mickey Mouse, it may not come as any surprise when he wants to have a birthday party featuring the magical Disney cartoon character. Create activities for children to keep them entertained at a Mickey Mouse-themed party. From crafts to games, guests can create projects and win prizes to take home as mementos of the party.
Arrival
As guests arrive, have a table with Mickey Mouse coloring books, crayons and markers for them to use while waiting for other guests to arrive. Give all the guests Mickey Mouse ears and add black paint to the end of their noses. Play a Mickey Mouse movie or recorded television show. Other potential activities include Mickey Mouse puzzles, dot-to-dot worksheets and word searches. Printable Mickey Mouse coloring pages, puzzles and activities are available at familyshoppingbag.com.
Classic Games
Most children know and love playing classic birthday party games, so put a Mickey Mouse twist on the games. For example, play a game of pin the nose on Mickey Mouse instead of pin the tail on the donkey. Other ideas include a game of Mickey, Mickey, Goofy instead of duck, duck, goose, Mickey says instead of Simon says and hot Mickey instead of hot potato -- passing a plush Mickey toy around the circle instead of a potato. The child who wins the game wins the toy.
Bingo
Make bingo cards with Mickey Mouse and his friends' pictures in the squares. Friends could be Donald Duck, Goofy, Minnie Mouse, Pluto and Daisy. Hold up the pictures one at a time and have the children mark their bingo cards. The first player to bingo and yell "I love Mickey Mouse!" wins a prize. Or create bingo cards by simply writing the names of the characters in the squares. If you need more square ideas, include a party hat, birthday cake, balloons and streamers.
Hunt Activities
Let children can hunt for their own Mickey Mouse party favors. Give each child a Mickey Mouse party favor bag. Hide Mickey Mouse-themed coloring books, stickers, temporary tattoos, toys and stuffed animals around the party area. The player who finds the most items wins an additional prize. For a variation, hide several plastic Mickey figurines around the party area and award a prize to the child who finds the most. Mark a star on a few of the party favors or Mickey figurines. The children who find these also win an extra prize.
Photo Credits
Janette Pellegrini/Getty Images Entertainment/Getty Images