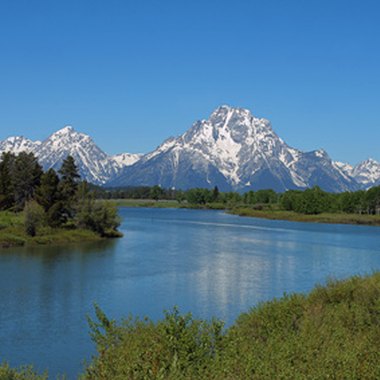 Breathtaking scenery, world-class fly fishing, and a variety of other outdoor activities draw visitors from around the world to Grand Teton National Park. While camping options abound in and around the park, for those not quite ready to rough it, there are also plenty of other lodging options as well. While accommodations in the park are only open during the summer season, year-round lodging options can be found just outside the park's entrances.
Inside the Park
The nearest accommodations to Grand Teton National Park are located inside the park, but they are not open year-round. Most park accommodations are open between late May through late September or early October. Park lodges include Jackson Lake Lodge, Signal Mountain Lodge and Jenny Lake Lodge. Jackson Lake Lodge, located along the banks of Jackson Lake, offers cottage and lodge rooms. Signal Mountain Lodge is also next to Jackson Lake. Accommodations at this lodge include one-room and two-room rustic log cabins, country rooms, deluxe country rooms, one-room bungalows, two-room lakefront retreat suites, and one three-room cabin. Jenny Lake Lodge, located alongside Jenny Lake, has one-room cabins, duplex cabins and individual log-cabin suites. A variety of cabins are also available at Colter Bay Village. These include semi-private rustic cabins with shared bathroom facilities, private one-room cabins and private two-room cabins.
Outside the North Entrance
Flagg Ranch Resort, open mid-May to late September, is just outside the north entrance of the park along the John D. Rockefeller, Jr. Memorial Parkway. Accommodations at this resort include log cabin rooms with either two queen beds or one king bed. Services at the resort include a restaurant, gas station and grocery store.
Outside the Granite Canyon Entrance
Several lodging options are found at Teton Village located near to the park's Granite Canyon entrance at the southwestern end of the park. Teton Village is also home to the Jackson Hole Ski Resort. Year-round accommodations here range from luxurious options such as the Four Seasons Resort and Snake River Lodge & Spa to more budget-friendly options such as The Hostel and Alpenhof Lodge.
Outside the Southern Entrance
The greatest amount of accommodation options near to Grand Teton National Park are located in the town of Jackson, which is found just outside the park's southern entrance. Lodging in town ranges from budget-friendly options such as the Anvil Motel and Antler Inn to luxurious accommodations such as The Wort Hotel and Rusty Parrot Lodge & Spa. Those with even more discerning tastes -- and a limitless budget -- may choose to stay at the Amangani Resort, located atop a butte overlooking the town of Jackson. Luxury accommodations at the Amangani range from suites to vacation homes.