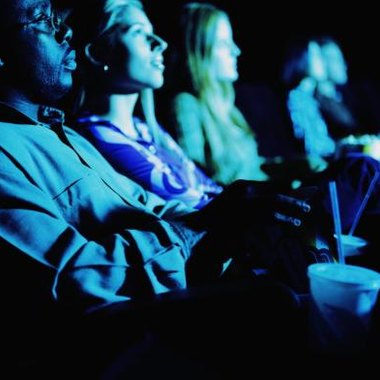 Each year, the Academy of Motion Picture Arts and Sciences has the responsibility of nominating the films they feel are worthy of Oscar gold. Any film that has come out during a particular year can be nominated for an Oscar, but only a few actually end up with nominations. Understanding how the nomination process works will make watching the Oscars a more entertaining experience.
Watch This
In order for your film to be voted on in the first place, it has to be seen by the members of the Academy of Motion Picture Arts and Sciences. There are nearly 6,000 members as of 2011. Major studios, independent distributors and publicists have the responsibility of making sure that the films they are pushing are seen by these members. To do so, they offer academy members free passes to commercial screenings, as well as private screenings. They also send out DVDs of the film they are promoting to members of the voting academy. Any form of bribery by studios, publicists or distributors -- such as giving academy members gifts or cash to vote for their film -- is not allowed.
Achievements
In late December, ballots are sent out to the academy members so that they can vote for their favorite film achievements. The majority of the categories -- with the exception of "Best Animated Feature Film," "Best Foreign Language Film" and "Best Film of the Year" -- are voted on by those who know the category best. For example, if you were a writer, you would cast your vote for the "Best Original Screenplay" and "Best Adapted Screenplay." If you were a director, you would vote for the best director award. The ballots are then returned to the accounting firm PricewaterhouseCoopers in January. Once the ballots are counted, the nominees are announced. The awards ceremony takes place in the third week of January.
Best Film
After the Oscar nominees are announced for each category, another ballot is sent out to academy members. This ballot contains the films that are nominated in each category. Unlike the first round of voting, all members can vote for all categories, meaning that directors can vote for "Best Screenplay" and writers can vote for "Best Editing." These ballots are then sent back to PricewaterhouseCoopers the Tuesday before the Oscar awards ceremony. The ballots are counted and the winners are determined. However, only two members of PricewaterhouseCoopers know the winners. The rest of the world must wait until the Oscar awards ceremony to know the outcome.
Fun Fact
For many years, the academy only nominated five films for best picture. However, in 2009, the academy announced that it would nominate 10 movies in this category, something that hadn't happened since 1943. One of the main reasons for this decision was to simply make more room for films that were both critically and commercially successful, such as Christopher Nolan's "The Dark Knight" and Disney/Pixar's "Wall-E."
Photo Credits
Ryan McVay/Photodisc/Getty Images