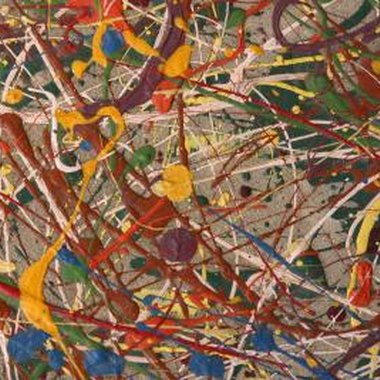 Abstract impressionism, or abstract expressionism, dominated western painting in the 1950s, when the movement's artists included figures like Jackson Pollock, Helen Frankenthaler and Willem de Kooning. These artists did not try to recreate scenes from reality; instead, they used colors, shapes and textures to express spiritual and emotional truths. These works often involved spontaneous and physical processes that were quite different from traditional painting methods. Learning to paint in this style focuses on expressing yourself, rather than honing technical skills.
Items you will need
Paper

Colored pencils

Canvas

Oil or water paints

Brushes (optional)
Step

1
View abstract impressionist pieces and familiarize yourself with some of your favorite artists in this movement. Learning about the work done before you helps you as you develop your own skills. You may be influenced by some artists, but you can develop your own style and voice with time and practice.
Step

2
Select a theme, emotion or message that is important to you. There are no rules on how to create an abstract impressionist piece, so there are no wrong choices. Some examples include violence, love or passion.
Step

3
Decide how to best express the essence of your message. For example, if you want to express the darkness of violence, one way to execute this vision is to apply paint to the canvas with your fists and hands. Be creative and do not limit yourself.
Step

4
Draw a sketch to serve as a blueprint or guide before you begin painting. This is especially helpful when you are first learning to paint, as it will help you stay focused on your goal while you work. Hang the sketch near your workspace for easy viewing.
Step

5
Paint your work using your selected method while following your blueprint. Feel free to improvise and change directions while you are painting, and try to focus on the heart of the message you're expressing.
Tips & Warnings
The quality of an abstract impressionism piece is not determined by technical perfection. Instead, a work is strong when it conveys its message to the viewer effectively.

Abstract impressionism can be messy work. Be sure to paint in a studio or garage where splatters and spills won't cause damage to your home.
Resources
Photo Credits
Hemera Technologies/AbleStock.com/Getty Images