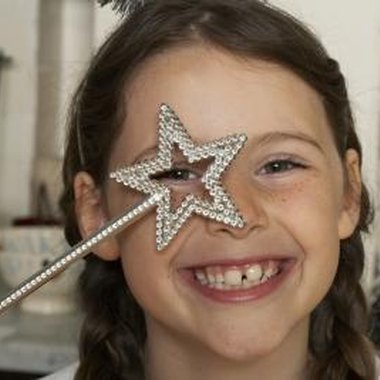 Your 7-year-old is definitely not a toddler anymore, but he certainly hasn't entered the "tween" phase. So his 7th birthday party should be upbeat and even a little silly, with "big kid" elements like organized activities and interactive games that make the guest of honor proud to invite guests. Consider your 7-year-old's favorite hobbies and activities, or incorporate the number 7 into a birthday event your child will remember fondly for years.
Lucky 7 Party
Show your little boy how lucky you feel to have him by throwing a birthday party for him where the number 7 is the theme. For instance, decorate the walls with paper cutouts of the digit in the colors he likes best, and choose plates and napkins decorated with 7s. Make your little one feel like it's his lucky day by allowing him to choose the flavor of cupcakes to serve at the party, and put an itinerary together of his favorite activities like bike racing or playing a soccer game. You could even set up several game stations -- each featuring a game of chance to play up the lucky theme.
Princess or Fairy Party
Let your little girl invite her friends over for a birthday party with a princess or fairy theme. Decorate the event site in hot pink and lilac by dusting glitter on the top of the table and adding a tulle table skirt. Give each of the girls a plastic tiara or fairy wand as they enter the party, and lead them to a table filled with some of your little princess's favorite treats, like sugar cookies iced in her favorite colors. Rent a bouncy castle that matches the colors of the party for the guests to play in, and send all the little fairies home with gift bags filled with mini scented lip glosses and compact mirrors.
Cake Baking Party
Invite your little girl's friends over for a cake baking birthday party if she loves to cook. Purchase microwavable birthday desserts for the children, along with sprinkles, edible glitter and candies to decorate the cake. Give each child an apron or chef's hat embroidered with a short phrase like "(guest of honor)'s 7th birthday" in the thread color your little girl likes best. Take lots of pictures of the cake decorating process, as well as group pictures to add to your daughter's scrapbook.
Field Day Birthday Party
Purchase a few burlap sacks for a potato sack race, along with used tires for kids to jump through for a field obstacle course at your son's birthday party. Come up with different games or activities for your son and his friends to enjoy, like a ring toss or a game of dodge ball or kickball, or rent a dunking booth to make the party even more memorable. Rent popcorn and frozen drink machines for the celebration, as well, to serve your little boy's guests some of his favorite treats at the celebration.
Photo Credits
BananaStock/BananaStock/Getty Images