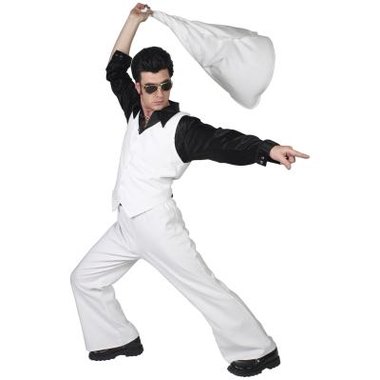 The 1970s was a tumultuous decade when disco ruled, polyester was popular and the changes of the sexual revolution began to take hold. Thanks to the decade's propensity for outlandish clothes, the 1970s also provide plenty of inspiration come Halloween. To find suitable gear, scour local thrift stores for cheap costume pieces and save big in the process.
1970s Presidents
With events like the Watergate Scandal and the Iran Hostage Crisis, presidential politics of the 1970s were intense. Lighten things up by going as one of the decade's two most noted presidents, Nixon and Carter, for Halloween. Wear a suit from your closet or purchase one second-hand to mimic presidential garb and combine it with a mask of Nixon or Carter, available online. Those masquerading as Nixon should make the "v for victory" sign with their hands, much like the late president.
Disco Dancers
The unofficial soundtrack of the 1970s was disco music as its driving beat lured people to dance floors across the nation. Though costume shops sell disco-inspired outfits, thrift stores are great sources for Halloween get-ups. Men should look for flared slacks and polyester shirts in bold prints and bright colors with wide collars. Wear shirts unbuttoned to the middle of the chest and add a couple gold chains. Women can look for slinky polyester dresses and big platform shoes, topping things off with glittery jewelry.
Punk Rockers
Punk was another music movement of the 1970s, with the Fashion Era website explaining that it began in London and that clothes were a major part of the movement. Using gel or egg whites, spike hair into a mohawk and color it with spray dye. Wear skintight jeans and a t-shirt with the sleeves cut off and the name of a punk band, like the Sex Pistols, written on it in marker. Accessorize with safety pins, chains and spiked leather cuffs.
Tennis Pro
Like many other things in the 1970s, men's tennis outfits of the era took a turn for the tacky. Turn the trend into a Halloween costume by wearing a pair of uncomfortably short shorts, knee-high socks with stripes encircling the calves and carrying a racket. The look will work particularly well for men with curly or long hair, as they can top things off with a terrycloth headband for a look reminiscent of John McEnroe. Complete the ensemble with matching wristbands.
Photo Credits
Dynamic Graphics Group/Dynamic Graphics Group/Getty Images