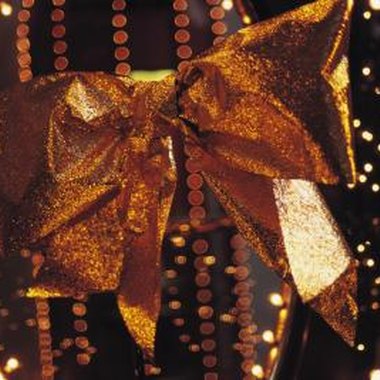 Most newlyweds can only dream of sharing half a century together. A 50th wedding anniversary is a testament to the bond and strength of a couple's relationship. A couple that makes it through the ups and downs of 50 years of marriage deserve a bash in their honor. Depending on the preferences of the couple, this party may be a large event with everyone they know or just a small intimate gathering with a few close friends.
Golden Party
Since the 50th anniversary is considered the golden anniversary, throw a formal party with gold as the theme. Incorporate gold throughout your party décor. Decorate the venue with gold- and cream-colored balloon bouquets. Let a few balloons float to the ceiling or above the dance floor. Use ivory linen, gold-trimmed dinnerware and napkins. Place a gold runner on the table. A group of two or three gold candles with gold confetti on a mirror works well. Or use white candles with gold candlesticks or votive candle holders. Another option is to spray paint artificial flowers gold and place in a vase. Or use bouquets of white roses in gold-colored vases. Dress up chairs by tying golden tassels or gold tulle around the backs of the chairs.
Photo Party
During 50 years of marriage most couples have collected photos that document their growth as a couple. Take guests down memory lane by throwing a party with a photo theme so they can see how far the couple has come. Select favorite photos of their wedding day and other significant moments of their lives such as buying their first car or home together. If the tables are long, align photos down the length of the table. If the tables are round, group a few photos in the center of the table. Enlarge photos of the couple on their wedding day when they were young and then enlarge a present day photo. Hang them on the wall beside each other. Play music from the year that they were married.
Potluck Party
If your budget is tight, consider throwing a potluck party. Over 50 years the couple has built large social connections through church, school, co-workers, senior citizen centers and neighbors so this is a good time to enlist their help. Ask some of your guests to bring a dessert, others can bring salads while others bring main dishes like chicken. Most people understand that times are tough and would be happy to help. If the weather is nice, hold the party outdoors. Ask neighbors to borrow potted plants for decorations or table centerpieces. A party doesn't have to be expensive to honor a couple.
Retro Party
Re-create the couple's wedding day as much as possible. Research the year the couple was married. Find newspaper or magazine clippings of that year and enlarge them. Hang the clippings on the wall so everyone knows what events were happening back then. Serve punch and dishes from a cookbook published in that year. Place a sign next to the dishes that informs guests of the name of the cookbook and when it was published. Dress up tables with the same color linen used at their reception along with the same flowers used in the wedding bouquet. Display the wedding dress and tuxedo if possible. Serve the same type of cake served on their wedding day. Play music from the couple's wedding year. If you want to take it a step further, ask your guests to dress in the fashions from the couple's wedding year.
Photo Credits
John Foxx/Stockbyte/Getty Images