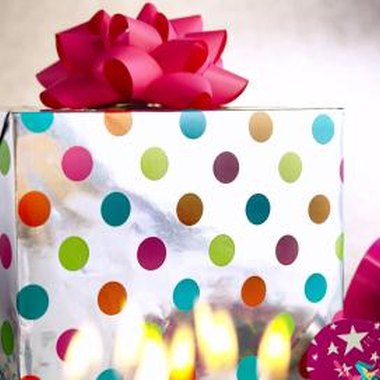 A person's 50th birthday party can be a bittersweet occasion. While it's a birthday milestone, it's one that some people wish they could avoid. However, to make a 50th birthday more of a celebration than a dreadful event, take a vacation. With 50th birthday vacations, the birthday celebrant can have some fun with the occasion while in the company family and friends.
Destination Vacation
A 50th birthday is a great excuse to revisit a destination or experience something new. Popular destinations might include all-inclusive resorts in Mexico or the Caribbean islands, where food, drinks and lodging are all included into one lump sum package. Guests can also book excursions into rainforests or to other attractions at such sites and spend time laying in the sun. Europe is another option for a destination vacation, especially for someone who enjoys seeing historical spots, such as Stonehenge in England. Or to get back in touch with inner youth, one might choose to take a family trip to Walt Disney World (disneyworld.disney.go.com) as part of a 50th birthday celebration.
Weekend Getaway
If you can't afford the time away for a long vacation, a weekend getaway might be more convenient. Rent a lake house for a relaxing time on the beach or venture to a secluded bed and breakfast with that special someone. Those who are into gambling and card games might choose to spend their birthdays in Las Vegas or Atlantic City. There's also casinos elsewhere in the country for more modest trips, such as Greektown Casino (greektowncasino.com) in Detroit, Michigan, or riverboat casino resorts, such as that in Florence, Indiana (belterracasino.com). Further west, there's the Morongo Casino, Resort & Spa (morongocasinoresort.com) in Cabazon, California, and the Pechanga Resort & Casino (pechanga.com) in Temecula, California.
Cruise Vacation
Cruise vacations are ideal for the person who wants to spend time both relaxing and sightseeing, as they often offer the best of both worlds. For example, Royal Caribbean (royalcaribbean.com) offers three, four and seven-night cruises to the Bahamas. Such cruises dock in various parts of the islands, offering guests a chance to sight see and shop, but they also allow allow guests more than enough time to lounge on the beach. Princess Cruises (princess.com) also offer Caribbean cruises. The line offers voyages lasting up to 20 days.
Hobby Vacation
Another option for a 50th birthday vacation is to chase hobby or passion. For example, a baseball fan might choose to take a baseball road trip, where you and your companions watch a game in a different city and ballpark for a week. Hunters might choose to rent a cabin and spend a week hunting. Fishermen might choose to rent a beach house and boat and spend time on the water.
Photo Credits
Photos.com/AbleStock.com/Getty Images