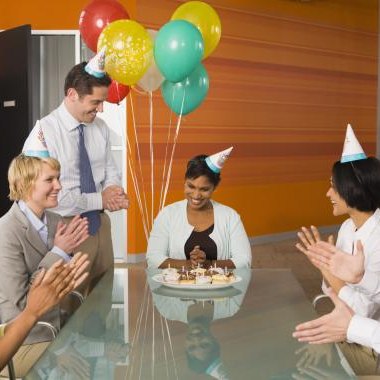 Reaching 50 years is a milestone that deserves recognition. If one of your co-workers is turning 50, make an effort to give him a special celebration and put a smile on his face. You have many options to choose from, depending on how well you know your co-worker and the money you want to spend. Come up with a plan that fits with the 50-year-old theme and make it a day to remember.
Office Party
Throw a party in the office. Speak to your boss to get the OK first. Stick to the 50th birthday theme. Hang banners that state "Happy 50th Birthday" or "Over the Hill" if your co-worker has a good sense of humor. Hang streamers in the break room and your co-worker's work area, cubicle or office. Get a birthday cake that says "Happy 50th Birthday." Ask co-workers to contribute one food item such as sandwiches, salads, chips and soft drinks. Buy napkins, paper plates and cups with a 50th birthday theme. Put board games and card games in the break room to add to the party atmosphere.
Party at Your House
Have a party at your house if you are close with your co-worker. Add a variation to the theme of 50 and make it a gold party, since gold is the official color for 50. Decorate with gold streamers and banners and ask the guests to wear gold-colored clothing items and gold jewelry. Don't forget to use gold-colored paper plates, napkins and cups. Get a cake with gold-colored frosting that says "Happy Birthday." Keep with the 50 theme by playing music from the time your co-worker was born 50 years ago.
Picnic
Have a picnic for your co-worker. Choose a park close to work, and have the party after work. Speak to your fellow employees and make it a potluck. Bring food such as hamburgers, hot dogs, salads and chips. Don't forget a cake that states "Happy 50th Birthday." Buy theme paper plates, cups and napkins that state "Happy 50th Birthday" or something a little more humorous if your co-worker has a good sense of humor. Play Frisbee, horseshoes or other outdoor games.
Restaurant
Throw your co-worker's birthday party at a restaurant. Reserve your space at least two weeks before the party. Invite fellow co-workers and friends of the birthday celebrant, but speak to your co-worker to find out how many people she wants to invite to the party. Get to the restaurant early and decorate the table with 50th birthday balloons and wind streamers over the chairs. Buy a cake and ask the restaurant to keep it in the kitchen until dinner is over. Give everyone noisemakers to blow after the birthday celebrant blows out the candles on the cake.
Photo Credits
Creatas Images/Creatas/Getty Images