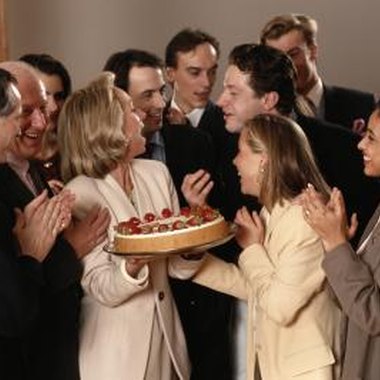 Reaching 50 is an achievement that needs recognition. As co-workers you will want to do something meaningful and fun at the office to help your boss celebrate his big day. With some ideas you will be on your way in planning an appropriate 50th birthday party that both your boss and co-workers will enjoy
Charity
Not everyone likes or needs birthday presents. Organize a charity themed birthday party in honor of your boss's birthday. Instead of a gift table, collect 50 items and organize a silent auction table. Money raised can go to your boss's charity of his choice. In addition to the auction, sell 50-50 raffle tickets to your coworkers. Proceeds raised are equally divided between your boss and the winner, allowing them to direct the winnings to their favorite charity.
Everything 50
Elaborate on your boss's big birthday milestone by hosting a 50 decorating party. Encourage your office mates to bring in 50 items that you can use to decorate her office. Use pencils, paperclips, pens, and calculators as decorative items. Complete your decor with birthday banners, balloons and streamers that say Happy 50th Birthday. Organize a birthday decorating brigade and ask coworkers to arrive to work early so everyone can surprise the boss when she enters the office.
Decades Party
Plan your party theme around the decade your boss was born. Trade in your usual office wear for clothing typically worn during that era. For refreshments, serve up food and beverages that were popular at the time. To create a festive and reminiscent mood, play music produced during the decade. An alternative to this idea is to host a party paying tribute to the boss's favorite decade. To get the party going, create a trivia game featuring pop culture and news events that happened during the decade.
Catered Affairs
When working in a professional and hectic setting, finding time to arrange an office lunch at a restaurant may almost impossible due to work. Consider hiring a caterer to provide a 50th birthday luncheon for your boss. This will allow the office to celebrate the birthday celebrant's big day while having little impact on any important meetings scheduled. A catered affair may be more appropriate than buying take out, depending on your boss's position within the company or firm.
Low Key
Some people may feel sensitive about their age. Before making a big fuss about your boss turning 50, double check with your boss's assistant or secretary about how he feels about his upcoming big day. When unsure how your boss will react, keep the festivities low key by not plastering the office with 50th birthday paraphernalia.
Photo Credits
David De Lossy/Photodisc/Getty Images