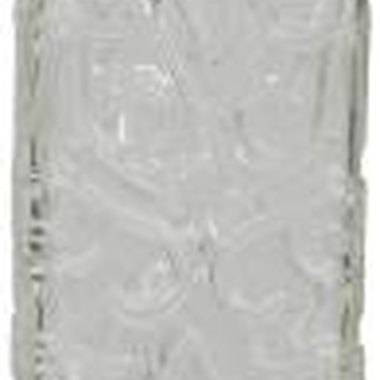 You're planning your loved one's 50th birthday celebration, which means you'll want the party favors to be just as memorable as the wonderful time all the guests will have at this milestone celebration. Etched glass party favors are an elegant item to send everyone home with, particularly when the 50th birthday favors are personalized with images that showcase the guest of honor's life achievements or decorative preferences.
Glasses and Mugs
Choose circular or square shot glasses to pass out to everyone as they exit the party, etched with your loved one's monogram, or the words "(guest of honor's name)'s 50th birthday celebration" and the date of the party. Shot glasses accented with colors at the base or rim of the shot glasses will make the favors stand out. A wine glass or beer mug, whichever matches the guest of honor's personality, etched with the date of the party and phrases like "A night to remember" or "50 years of great memories" makes a festive party favor as well.
Coasters
Glass coasters are a visually appealing party favor that allows you ample space for a loving etched birthday message dedicated to the guest of honor. For instance, ask the engraver to create a message like "Raise your glasses! Your 50th will always be a reason to celebrate!" so guests will be reminded of the birthday celebration each time they lift their cup from the coaster. Or, simply create an elegant monogram design for the center of the coaster, along with your loved one's birth month and year. Choose an artistic border that showcases the guest of honor's personality, like an apple if she's a teacher, or a set of golf club to represent his favorite sport.
Frames and Clocks
Select small glass frames or clocks wholesale from a glass gift company and have a professional engraver adorn the party favors with a meaningful message. For instance, copy small photos of the guest of honor as a baby to place inside of the frame and engrave the frame with your loved one's birth date and a message like "You're just as beautiful as always." Or, give guests mini glass clocks bordered with gold, as gold is associated with 50th birthdays, to all the guests, with the message "You only get better with time" inscribed on the bottom of the favor, along with your loved one's birth date.
Vases
Choose small vases to take to your local print or graphics shop and ask the professional to adorn each party favor with the guest of honor's initials or name and birth date. Purchase several birthday flowers that coordinate with the month your loved one was born. For instance, choose red or pink carnations if the birthday celebration is in January, particularly if these are the guest of honor's favorite colors. Or, fill each vase with a small synthetic rose for a June birthday -- choose red blooms to signify everlasting love, or yellow to represent the meaningful friendship you share with the guest of honor.
Resources
Photo Credits
Hemera Technologies/PhotoObjects.net/Getty Images