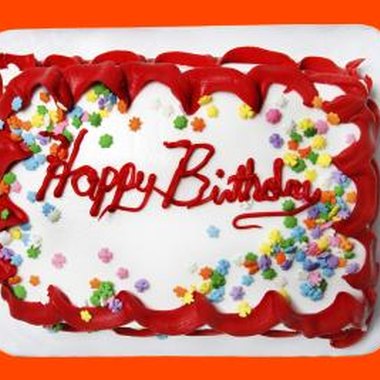 Kent, Wash., lies right between the big cities of the Puget Sound area, about 20 miles south of Seattle and 20 miles north of Tacoma. Its population of more than 92,000 makes it the seventh-largest city in Washington, according to 2010 Census figures. It also means that there should be lots of ways to celebrate a 40th birthday. No matter what your pleasure -- from recreation to shopping to dining to relaxing -- there should be a place and a way for everyone to celebrate.
ShoWare Center
The Seattle Thunderbirds call Kent's ShoWare Center (showarecenter.com) home. As of 2011, the arena also hosts Seattle Timberwolves indoor football games. One of the ShoWare center's 20 suites could easily house a group of birthday revelers. Suites offer access to a full bar and a catered food menu. If your birthday doesn't fall close to one of the ShoWare Center's sporting events, there are concerts and other events at the arena throughout the year. The ShoWare center is around the corner from Kent Station and is easily accessible by bus or Sounder Train.
Golf
Golfers might enjoy a birthday at Kent's Riverbend Golf Complex (ci.kent.wa.us/Riverbend), a 160-acre, public facility on the Green River near downtown Kent. Amenities include an 18-hole course, mini golf and a driving range. The complex also features the Discount Golf Center, where the birthday golfer can pick out some gifts. There is also a cafe and Mick Kelly's Irish Pub, where weary patrons can have a bite to eat or a pint to drink.
Martinis
Shindig (shindigmartinibar.com) offers a more subdued experience than the typical sports bar or nightclub. The Shindig Martini Bar opened in 2008 in Kent's Historic District. You can celebrate a birthday over a little conversation and a classic martini or opt for a more adventurous martini or another tasty cocktail.
The Wing Dome
For those who prefer a messier birthday experience, there is always the Wing Dome (thewingdome.com). Partner some of their spiciest wings with cold beer. There are plenty of specialty wing sauces and plenty of specialty cocktails to keep a birthday celebration moving right along. The Wing Dome might not exactly be the place for a quiet, intimate, low-key birthday experience, but if you don't mind saucy fingers, it could be the perfect place for a 40th birthday.
Kent Station
The Kent Station (kentstation.com) is a shopping and dining district that should have something to eat or do for anyone's maturing birthday taste. Celebrate at a sports bar, such as The Ram Restaurant and Brewery or by tasting wines at Reds Wine Bar. Duke's Chowder House and Kaiten Sushi add to Kent Station's dining options but don't complete them. The cinema and free summer concerts provide more activities at Kent Station. Duke's Chowder House even offers free 40th birthday meals for patrons who join its email club. Actually, they do that for any birthday, but that doesn't detract from Kent Station's 40th birthday celebratory options.
Pampering
For a therapeutically relaxing birthday, Lemon Drop Skin Care and Massage (lemondropskincare.com) has an all-female staff that will provide European-style facials, therapeutic massages, facial and body waxing, as well as other body maintenance services. They also sell body care products that can help ladies look and feel so great, they won't even care that it's their 40th birthday!
Photo Credits
Thinkstock/Comstock/Getty Images