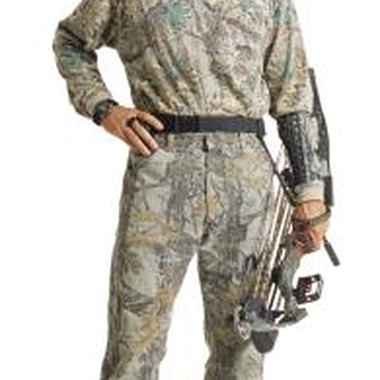 Men enjoy participating in many extracurricular activities that most women cannot fathom, such as hunting. If you know a hunting enthusiast, you probably shouldn't be surprised when he comes to dinner in his best pressed camouflage wear. Planning a theme party for a hunting guy who is turning 40 can be as simple as adding some green and beige decorations, and incorporating some hunting ideas into the games and party favors.
Planning
Plan all of the details of the party according to the honoree's personality. The goal is to throw a party that is a representation of the honoree and helps him embrace the honor of turning 40. If he is laid-back and enjoys being outside, use a venue with outside space. Plan a fish fry or cookout and have a DJ spin rock tunes while hot dogs and hamburgers simmer on the grill. If he's a party guy that loves having a wild time as well as hunting, have a no-holds-barred party at a banquet hall with a dance floor. Decorate the hall in a hunting theme and have all of the guests come dressed in camouflage colors.
Games and Activities
Incorporate hunting-related games to provide entertainment for the party guests. Plan an outside scavenger hunt. Hide hunting gear or accessories and allow the guests to keep them as gifts whenever they find them. You should also include activities to celebrate the honoree. Have his friends share stories about funny hunting mishaps or great accomplishments. Have guests participate in presenting a skit that shows all of the fabulous ideas and concepts about turning 40. Make a picture slide show showing then and now photos of the honoree and present it on a projector.
Decorations
Camouflage colors--shades of green and beige--are the first palette that comes to mind when considering decorations for a hunting-themed party. For simplicity and adherence to tradition, go with these. Remember it's a hunting party, not a fancy tea. Consider masculine, testosterone-infused embellishments, including camouflage- and mossy oak-inspired plates, cup and napkins. Hang a deer or bear head over a mantle if money allows. If that is not feasible, stick to neutral streamers, banners and balloons. Place pictures of wild animals in hunting scenes on the walls. Use table centerpieces made of green shrubbery accented with wild flowers.
Food
What better way to impress the hunting enthusiast than with a wild game-inspired menu. Employ a caterer to help you plan dishes that include venison, duck and any other game meat that is in season. Or, to comply with a smaller budget, include foods that a hunter typically consumes, such as packages of beef jerky, individually packaged chips and snacks and trail mix. Make a large pot of chili using venison as the main dish. Make sure to incorporate the hunting theme into the birthday cake. Ask a baker to decorate a cake in a camouflage pattern or to create a hunting scene on top of the cake using hunting cake toppers with a miniature hunter and animal figurines.
Photo Credits
Photodisc/Photodisc/Getty Images