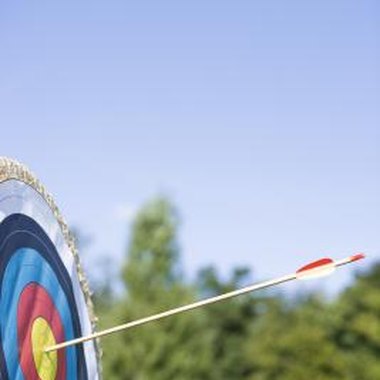 Three-dimensional archery shoots are a great way to hone your aim before going out in the woods or a fun means of enjoying some healthy competition with other bowhunting enthusiasts. The state of New York provides ample opportunities for those looking to let the arrows fly, even in urban, indoor areas. Many sportsmen clubs also offer league shoots.
Leagues
Some sportsmen clubs offer leagues for archery enthusiasts. The Walden Sportsmen Club (waldensportsmensclub.org) hosts a 3-D Archery Target League that runs for 12 weeks on Mondays in the summer. Fourteen targets are placed along a course, with each participant getting a single shot at a target and scored according to his accuracy. There is one prize for highest adult scorer and one for highest scoring youth archer. The Glencadia Rod & Gun Club (glencadiarodandgun.com) is another example of many local organizations that offer leagues and shoots throughout the year, sometimes offering prizes such as a bow fishing trip.
Urban Shoots
Shooters who live in cities still can have the chance to practice their sport. Located in Hyde Park in the New York City area, Ti Yogi Bowmen (tiyogi.com) provides a place for all archery enthusiasts to gather. The club holds 3-D shoots throughout the year, including a 3-D summer league outside and fall and winter leagues inside. Ti Yogi Bowmen offers a hunter's safety course, as well as adult and youth education courses. Ti Yogi Bowmen claims to be the only club in the Mid-Hudson Valley devoted exclusively to the sport of archery. The club also makes its facilities available to various local civic organizations.
Upstate Shoots
There are many sportsmen clubs located above New York City. The Sportsmen Club of Clifton Park (portsmensclubofcliftonpark.org) is near Albany. The facilities include 14 indoor lanes at 20 yards and an outdoor range that has shots from 10 to 80 yards, as well as two platforms for tree-stand practice. The Sportsmen Club of Clifton Park hosts three to four 3-D shoots each year, the proceeds of which go to various charities, including funding for breast cancer research. It also offers shoots on Wednesdays throughout the summer through the Lost Arrow Travel League. The West Falls Conservation Society (westfallscs.org) is another place for archers to shoot. WFCS has even trained a member of the U.S. archery team, Jake Kaminski, who is aiming for the 2012 London Olympics.
Store Ranges
Many archery and bowhunting stores offer ranges and host shoots to help bolster interest in the sport. Archery Solutions (archerysolutionsusa.com), located in Williamson, has 36 targets that are rotated weekly. Most of them include IBO scoring and are shot at from an elevated position to mimic a tree-stand situation. Archery Solutions hosts youth and adult leagues, as well as a couples league in which participants bring food to share. Bowhunters Plus Archery Pro Shop (nyoutdoors.net) also features an indoor range in Amsterdam, including video archery.
Photo Credits
BananaStock/BananaStock/Getty Images