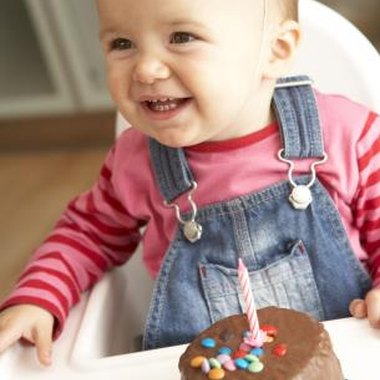 Babies born in July bring to mind summer-themed birthday parties. If your baby was born in July and you need a first birthday party theme, there are different ways to incorporate the season and include some of your baby's favorite things. Of course, the party will be more for you at this point than for your child, so have fun with it!
Backyard BBQ
A backyard BBQ is a perfect way to celebrate your baby's first birthday and the fun of summer. Set up your backyard with picnic tables and red and white checkered tablecloths. The menu would include classic BBQ food like BBQ chicken or ribs, hot dogs or hambugers. For a little girl, you could add some ladybugs for a ladybug theme. Decorate her cake with ladybug decorations and dress her up in a ladybug onesie and red tutu. For a little boy, use a sailboat theme for the cake and incorporate the sailboat theme into a special birthday shirt just for him.
Seashore Beach
Celebrate the summer with a seashore and beach theme. Decorate your party space with beach balls, beach towels and seashells. Have a sandbox for the kids to play in and make sure to have sandbuckets, shovels and castle molds on hand. A little water will help the kids build sandcastles. If you have a pool, guests can swim. An adult should be on hand to watch at all times for older kids and an adult should be in the pool at all times with younger kids. Use seafood for the menu of your beach party. Crab dishes make good appetizer choices, while lobster or shrimp could be the star of the main course. Use a seashell theme for your little one's cake.
Independence Day
If your baby was born on or around the Fourth of July, an Independence Day themed birthday party is perfect for her. Decorate the party space with American flags and red, white and blue ribbons or streamers. Dress your baby in red, white and blue attire. Serve Independence Day food like hamburgers and hot dogs. Make an American flag themed fruit pizza out of a cookie crust, cream cheese and top with blueberries and strawberries. Finish the party with sparklers.
Carnival Theme
A carnival theme is a good choice for a baby's first birthday party and it is even more fun for older kids. Carnival food would include peanuts, hot dogs, hamburgers and potato chips. Rent a popcorn machine for decoration and food. Hire a clown or magician for entertainment. If the birthday party happens to fall around the same time as your local circus, guests can visit the circus first and then go to your party location for food, presents and cake. Candy apples and large swirly lollipops make good favor choices.
References
Photo Credits
BananaStock/BananaStock/Getty Images