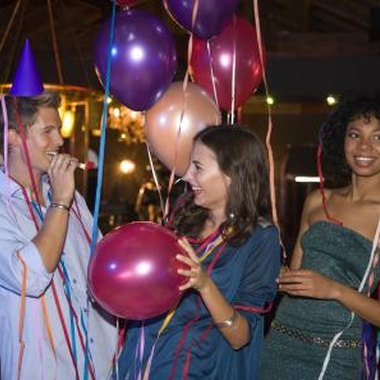 It was in the 1980s that we fell in love with movies such as "Star Trek" and "The Breakfast Club," obsessed over the writings of Stephen King and danced to the tunes of Michael Jackson and Vanilla Ice. If you were born in the 1980s or if this time period is special to you, celebrate your birthday by throwing a party with an '80s theme. There are many ways to represent this decade in your party, from entertainment to food.
Attire
Request that your birthday party guests dress in 1980s attire. Such clothing includes, but is not limited to, acid wash jeans, penny loafers, lingerie as outerwear, leather jackets, Chuck Taylor shoes, draped sweaters over top of Izod Lacoste shirts, parachute pants and leg warmers.
Entertainment
If you have tables set up, blow up some inflatable guitars and leave them on the tables for guests to play with. Adorn each table with a lava lamp. Instead of a DJ, place an old-school cassette boom box on a table with a selection of popular 1980s cassette tapes (such as Michael Jackson, Madonna, Billy Idol and Bon Jovi) so guests can choose and play their favorite tapes. If you're lucky enough have an old-school Nintendo NES gaming system, set it up for guests to play with. Have a contest to see who can correctly sing television theme songs from the 1980s.
Menu
Your 1980s birthday party is not complete without the staples of the decade: Tab cola, Cool Ranch Doritos, pasta salad and anything cajun. The 1980s also were the decade of fast food; serving burgers, fries or tacos would be appropriate. Drinks should include wine coolers for adults and fruit punch or boxed juices for children. For dessert, serve a Pac-Man shaped cake.
Decorations
Hang up a bunch of popular 1980s movie and music posters around your party space. To reflect the popular 1980s trend of paint-splattered clothes, splatter paint onto table covers. Print, cut and frame pictures of 1980s famous figures and events -- such as Sandra Day O'Connor, Ronald Reagan, Pee-wee Herman or the fall of the Berlin Wall -- to hang at the party for guests to reminisce over.
Party Bags
Provide each party guest with a gift bag. Fill each bag with assorted candies (such as Skittles, Lifesavers, Pop Rocks or Nerds), jelly bracelets, pins or beaded necklaces.
Photo Credits
Jupiterimages/Goodshoot/Getty Images