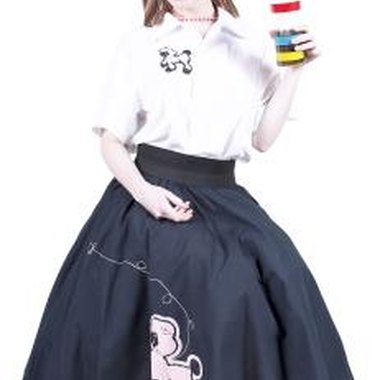 Hot rods, greasers, poodle skirts and leather jackets are often associated with the 1950s. It's only natural that a 1950s-themed party would include invitations bearing symbols of the times. Coming up with the ideal 1950s-themed invitation doesn't require a trip to the store. In fact, with a little creativity and some craft supplies, you can make the invitations in the comfort of your home.
Music-Themed Invitations
The 1950s was all about the rise of true rock-and-roll artists, so creating a '50s music-themed invitation is one of the most obvious ways to lure guests to your party. Cut out large circles from cardboard to create LP albums. Paint the center white and the outside edges black. On the center, include all of your party information. If you have real vinyl LPs lying around that you no longer need, consider printing out your party invitations on sticky paper and placing the stickers over the original labels. However, remember that you may have to hand-deliver such large invitations. Jukebox-shaped invitations also represent the musical inclinations of the '50s.
1950s Culture Invitations
In the 1950s, hangouts included drive-in movie theaters and car hops. Implement one of the two in your invitation. For example, if you choose the drive-in route, create invitations that resemble movie tickets. If you choose the car hop theme, make invitations that resemble a restaurant menu with pictures of root-beer floats, roller skates and poodle skirts.
1950s History Invitations
Take photographs of the guest of honor or the host wearing 1950s apparel. Edit the photographs so they are in black-and-white. Paste the photos on the front of your invitations and invite friends over to party "1950s style." Another option is to use the photographs to create a 1950s newspaper front page. Have the headline say, "You're Invited" and use smaller text to write out the party details. Your newspaper could even include sidebars highlighting real news from the 1950s.
Wording
Use 1950s slang to invite your guests to your party. Include phrases like "Have a blast at my bash, Daddy-O!" or, "Don't be a party pooper! Save the date!" Use other fifties-inspired phrases like, "Shake, rattle and roll with [Host Name]." Simple phrases also work well, such as "Let's party like it's the Eisenhower years!"
Photo Credits
Hemera Technologies/PhotoObjects.net/Getty Images