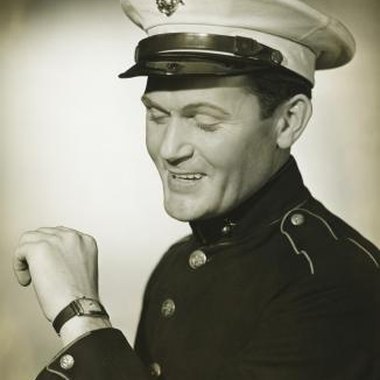 The 1940s saw the end of World War II and the 1950s hosted the Korean War. Both eras brought many soldiers home who had been abroad, and patriotism skyrocketed during these eras, especially since it seemed like everyone had helped contribute to the war effort. Women and minorities stepped up and kept the country's economy going while men were off fighting in Europe and Asia. Military parties themed from these decades are easy to pull off if you have the right atmosphere and music.
Patriotic Colors
American flags are the easiest way to display the red, white and blue at a 40s and 50s military-themed party. You can hang them on the walls or display them on flag poles throughout the party area. Check with local veterans organizations to see if they rent or loan out any flags they have on hand. These organizations might also have authentic lances, pikes, cords and tassels used to adorn flags. Smaller versions of the flag can also be displayed as centerpieces and even worked into corsages for women. Use napkins, plates and crepe paper to decorate in these colors, too.
Military Flags
Look online or in military surplus stores for military flags from the 40s and 50s, such as the POW flag and the flags that represent each of the branches of the military. The U.S. Army flag even had its inaugural appearance on June 14, 1956, according to Army Study Guide.com. You can also display the flags of the Navy, Air Force and Marines alongside the American flag. Check with your local veterans organizations for these flags, too.
War Posters
Vintage war posters can be found online and in specialty shops. These were distributed on a widespread level during the 40s and 50s and advertised war bonds, paper conservation methods, ways to combat inflation and troop recruitment. These can give your party the vintage touch it needs for your guests to really get the feel of the 1940s and 1950s.
Music
If you have a record player, look for authentic records from these eras online or in vintage shops or you can download individual songs online. The music of the 40s was heavily into big band and swing, such as The Glenn Miller Orchestra, Tommy Dorsey and Duke Ellington. The 50s still loved these bands, but also ushered in a new wave of musical styles, including those of Elvis Presley, Buddy Holly and Jerry Lee Lewis. Play the individual fights songs from the different military branches to keep with your military theme.
Resources
Photo Credits
George Marks/Retrofile/Getty Images