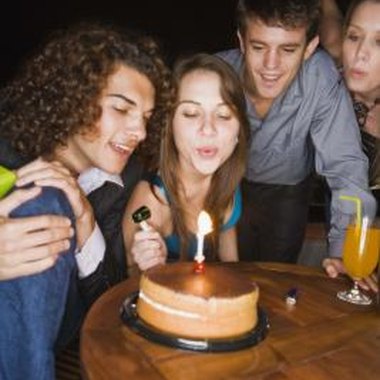 By her 18th birthday, she's nearly completed all of her teenage years, and is soon to become an adult. As a result, the 18th birthday party and gifts should not be childish, nor too grown up. It's important to find an even balance because the birthday girl is on the cusp of adulthood, but has not yet finished her teenage years.
Cosmetics and Other Beauty Products
For the 18-year-old woman who's into makeup and beauty products, the ideal gift is likely the latest in beauty product trends. Moisturizers, facial cleansers, perfume, eyeshadow palettes, loofahs and bath gels are a practical, yet appropriate gift for a young woman experimenting with different beauty routines. If you're not completely sure what hues she prefers, opt for a gift certificate to the nail salon for a manicure and pedicure, or a gift card to the hairdresser for a cut and style.
Clothes that Represent Adulthood
It's time to throw out the princess tiaras and totally pink wardrobe and implement some more mature styles. If she's willing to achieve a more grown-up look, purchase a few items of clothing that represent her new found adulthood. A trendy top, a pair of jeans or a black skirt, and a pair of fashionable heels. While any 18-year-old has the ability to put on a cute outfit and call it a day, take it up a notch by offering accessories, such as jewelry, sunglasses, tote bags, or an elegant clutch.
Home Decor
If she's heading off to college or about to step out into her own apartment, help her get started by purchasing new drapes, paint, indoor plants or contemporary bookshelves. If she has all of the furniture that she needs, opt for items, such as stationary with matching envelopes to write home, books, magazine subscriptions, photo frames, monthly planner, customized calendar, floor cushions or throw blankets to accent her abode. At the age of 18, life becomes a whirl between school, work and social life, so anything to make her life a little easier is likely to be appreciated.
Entertainment
Life may start to become hectic for an 18-year-old, so when she comes home, give her something to do while she relaxes. The newest album from her favorite artist, a television set, a DVD player with DVDs featuring her favorite actors and actresses, an MP3 player, a game system or computer games are all entertaining gifts that will help her unwind after a long day.
Photo Credits
Jupiterimages/Comstock/Getty Images