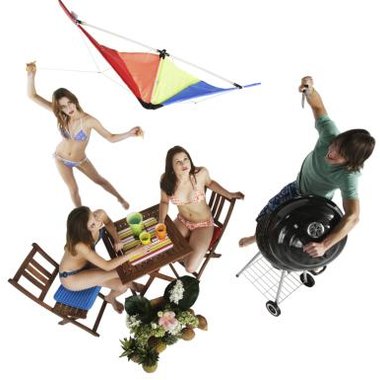 Your 13-year-old is longing for the birthday party of her dreams, but your budget is pretty small this year. Don't worry -- you don't have to break the bank to throw an unforgettable birthday party. Even with just $150, you can give your special girl a party so creative and fun that she'll be happily thanking you for the rest of the year.
Spa & Beauty Party
Visit the dollar store and buy bottles of foot scrub, beauty masks, nail polish, hair products and mini makeup and manicure/pedicure kits. Let the girls give each other makeovers and manicures and experiment with different colors of polish and beauty products. For party favors, give each guest a travel-size bottle (often just 99 cents at large discount stores) of body wash and a loofah. If you're handy with a needle, you can use pretty, inexpensive fabric and elastic to sew a sponge bag for each guest personalized with her initials. Have an older sister or female cousin offer makeup lessons. Serve homemade cookies and lemonade for snacks and rent a couple of movies for the girls to watch.
Camping Party
If your special girl loves the great outdoors, a camping party could be the perfect way to celebrate her 13th birthday. All you need to pay for is the campsite fee for one night, two large, inexpensive tents (available at large discount stores or even garage sales) and whatever refreshments you can afford. Tell guests to bring their own sleeping bags and any additional snacks they want. Check online for good ghost stories and make sure you can build a campfire for roasting marshmallows. If you have access to electricity, borrow a portable DVD player from a friend or family member. Unhook your desktop computer's monitor and attach it to the DVD player to create a mini outdoor movie theater.
Game Party
You may already have on hand all the games. Dust off all your old board games, including childhood favorites like Candyland and Sorry! Get out several decks of playing cards and teach the guests to play poker. Move on to Truth or Dare, a neighborhood-wide scavenger hunt and video games (if you already own a console). Buy colored icing and cookie cutters to make cookies shaped and decorated like video game characters, dice or playing cards. Devise a scoring system and keep track of each guest's accumulated points. At the end of the party, have an awards ceremony and give a small prize, such as a basket of assorted candy bars, to the top three scorers.
Artsy Party
Cover your floor with an old tarp or drop cloth. Hang a large sheet of butcher paper on the wall in a spare room (remove any wall decorations) and supply inexpensive paint and paintbrushes. Visit a home-improvement store and ask for clearance or returned paint to get a real bargain. Compile an upbeat, danceable playlist using YouTube. Invite guests to come and spend an afternoon painting, listening to music and hanging out. When they finish painting, supply the ingredients to make homemade pizza and fresh-squeezed lemonade for dinner. If the guests are all female, follow with a sleepover featuring pay-per-view movies (usually around $4 apiece) and candy.
Photo Credits
NA/PhotoObjects.net/Getty Images