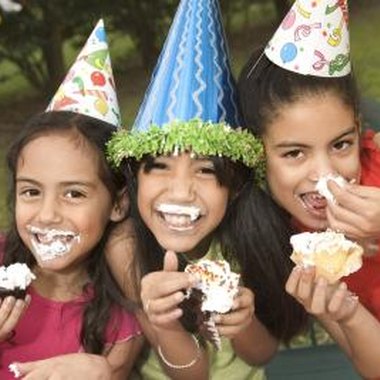 Age 11 can be a tricky birthday party age for your little girl. The traditional party games, such as Pin the Tail on the Donkey, become too juvenile, yet you still need a structured event to keep your guests interested. Choosing activities that incorporate fun into a more grown-up theme is your best bet for your little tween. Allowing the birthday girl to help plan and set up for the party will help make the day unforgettable for her.
Scavenger Hunt Party
A scavenger hunt is an activity any age will enjoy. Eleven-year-olds will do well with this activity because they are old enough to both read the clues and follow basic directions. This will leave you that time you need to do that last-minute frosting on the cake. Allow the girls to get silly with each clue by requiring a task before they are allowed to move on to the next one, such as "Stand on your head," "Run a race to see who is the fastest" or "See who makes the best chicken noise." Appoint the birthday girl to oversee everyone's participation at each station. Make a total of 11 clues to celebrate the guest of honor's age. The final treasure will be party favors for each guest to take home.
Spa Party
Treat your little princess and her guests to a spa party where they can receive manicures and pedicures from a grown-up helper. For an activity, have the girls make their own soap or colored and scented salts for the bath (kits can be purchased at your local craft store.) As a party favor, each guest gets to take home what she makes.
Late-Night Party
Although many parents may feel that 11 years old is too young for a full-night sleepover, compromise by holding a late-night party. Have the birthday guests arrive around dinnertime, where you can serve a simple meal of pizza or hot dogs. If it is summer, organize night games outside; in colder weather, choose an age-appropriate movie, complete with popcorn and snacks. Give glow-in-the-dark bracelets and necklaces to the guests as a party favor. End the festivities around 11 p.m.
Cooking Party
Eleven is an age at which your little girl may love to cook but still need some supervision in the kitchen. Have the birthday girl greet her guests at the door with an apron for them to keep. Set out the ingredients for what you choose to have her party cook, and supervise the girls adding the correct amounts. Allow them to take turns adding ingredients and mixing. If you would like to invite your guests for dinner, have them cook it themselves. Pizza dough, for example, is easy to mix, and the girls can easily add sauce and toppings to the dough before baking. Cookies also can make use of many hands for making. While the food is cooking, let the guests decorate their aprons with permanent colored markers. The finished aprons will be the party favors.
Photo Credits
Thinkstock/Comstock/Getty Images